Welcome to Gran Canaria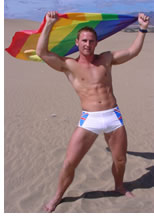 The volcanic Island of Gran Canaria, situated off the coast of Africa, is a gay man's dream - it's got sun, sea and sex in abundance and what's more it's a year round fantasy island. Gran Canaria is the number one gay travel destination in Europe.
Located just 4 hours from most Northern Europe's airports it's an easy destination to obtain that perfect tan. If you want to get a bit cultural head into the mountains where the scenery changes from volcanic dryness to pine forests and evergreen shrubs.
Gran Canaria Island is located in the Atlantic Ocean about 70 miles off the Moroccan Coast. Maspalomas / Playa del Ingles is located on the southern tip of the Gran Canaria island. 43 miles south of Las Palmas and about 18 miles south of the De Gran Canaria International Airport. The climate is sub tropical, with plenty of sunshine year round accompanied with little variations in temperatures.

Gran Canaria Gay Accommodation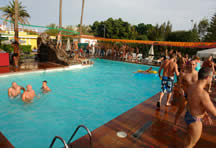 Many gays from all over the world visits the warm and sunny island. Naturally the different accommodations anticipated on this, You can find several gay-only accommodations on the island, of course you can find gay-friendly accommodations as well. So you just can be yourself and no need to worry about what other people will think.
If you're a first-time gay visitor and want easy access to the gay beach and nightlife, you're probably best-advised to stay in either Playa del Ingles or Maspalomas.
There are a number of gay bungalow complexes in both areas - some such as Villas Blancas, Artemisa, Tenesoya, Los Tucanes are men-only and allow nude sunbathing - and these are good places to stay if you've never visited before.
As most gay life is centred around the Yumbo Centre, the Cita Centre and the Avenida de Tirajana, you may want to choose somewhere nearby. You will probably want to avoid staying near the Kasbah Centre, as this is the main area for young straight nightlife.