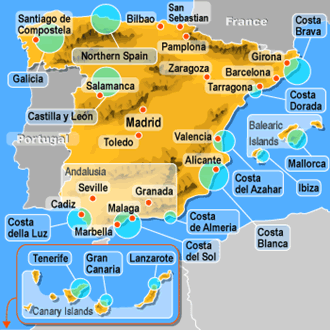 Choose where to go
The 5 main gay cities in Spain
Sitges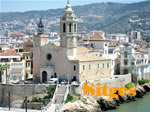 Not only is Sitges beautiful in every respect, from it's quaint, narrow streets to it's beautiful beaches but in terms of sheer convenience for the gay holiday maker, there's nowhere else like it. Everything from the gay bars to the gay discos to the gay restaurants to the gay beaches to the gay cruising area to gay shopping to your gay hotel are all within a 5 minute walk of each other. It's the perfect gay holiday in a neat little package!

Barcelona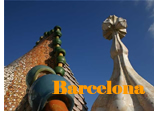 Barcelona has long had the reputation as a city with a vibrant and integrated gay scene. Whilst there are some areas that are frequented more by the gay community, everywhere in the city is welcoming and open-minded, making Barcelona a gay friendly popular destination for members of the gay community. The main gay area in Barcelona is called L'Eixample or Gayxample.

Madrid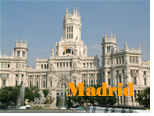 The main gay area in Madrid is called Chueca Madrid has a lively, raunchy gay scene. There are several sex bars and most bars have dark rooms, where just about anything goes. The gay area, Chueca, is in the old quarter at the center of Madrid. It's a tightly compact area, actually two areas a short distance apart. Places further afield are easily accessible by metro. Madrileños like all Spaniards tend to party late, going out to eat at 10pm, hitting the bars at 1am. and on to the discos about 4am after the bars close.

Gran Canaria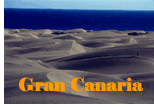 One of the biggest draws in Gran Canaria is its booming gay scene centred around Playa Del Ingles and Maspalomas, although Las Palmas the capital does reasonably well for a few gay clubs, internet cafes, bars, and saunas. Numerous gay owned bars, restaurants, saunas and clubs offer a warm welcome to gay and lesbian visitors, with a choice of gay run excursions available too and gay friendly accommodation. Gran Canaria's Maspalomas and Playa Del Ingles really do get credited as number one top Gay resorts.

Torremolinos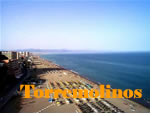 Among northern europeans, Torremolinos isn't known as a big gay destination, but it actually is! After Madrid and Barcelona it's the place with the biggest gay nightlife of Spain. The main gay area (La Nogalera), a guarantee of sun, sun and more sun It's on the Costa del Sol (Sunshine Coast), and you've got your perfect holiday with lots of cute Spanish boys roaming around in next to nothing!

All other cities, in alphabetical order
Alicante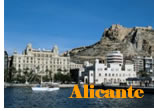 Alicante has a busy gay scene with mostly cute Spanish boys. It's a very mixed scene - Gay guys & Lesbian gals mix everywhere. While in Alicante, make sure to visit the marina/harbour area. It's a popular people watching area with many cafés & restaurants. Alicante is one of Spain's fastest growing cities with a boom in tourists looking for the 'real' Spain.

Almeria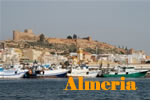 Almería is the capital of the province of Almería, Spain. It is located in southeastern Spain on the Mediterranean Sea. Its Moorish castle, Alcazaba, is the second largest among the Muslim fortresses of Andalusia after the Alhambra in Granada. Almería has the largest naturist beach in Europe (also surrounded by naturist accommodations) called El Playazo. Almería is the driest region in Europe as well as one of the warmest with an average annual temperature of 19 degrees Celsius.

Benidorm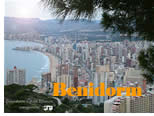 Benidorm is Spain's playground for the Club 18-30's crowd, almost exclusively from England. Ask someone Spanish what Benidorm is like and most of them don't even know where it is, let alone what it's like. It's about as far away from the real Spain as you can get but it's a town full of life and boasts some of the best beaches in Europe. It's glittering skyline is more reminiscent of Vegas than Spain. The gay scene is good and lively and mainly concentrated in the old town, which is a part of Benidorm that has retained much of it's old world Spanish charm. The peak gay season is from September to January.

Bilbao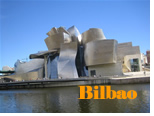 Capital town of the Basque Country and home to the spectacular Guggenheim museum. You'll find it a very welcoming town with a highly localised gay scene, but a good one at that. Across the Merced Bridge is the pedestrian area of the Casco Antiguo. (Old town) By day the cobblestone streets are full of cafés with lots of people watching, and as night approaches the area gives way to a lively gay scene.

Cadiz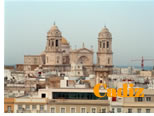 The Cadiz gay scene is very unpredictable. There's lots of gay life in Cadiz, but it's not well organized. Gay bars open and close all the time. Those that are open get going after midnight but are closed on Sunday, Monday, and sometimes Tuesday night. They tend to be close to the railway station, the cruise-ship terminals, or even at the Plaza de Sevilla or on the narrow streets of the Old Town.

Elche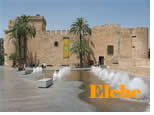 Elche is a city located in the comarca of Baix Vinalopó, in the Alicante province which, in turn, is a part of the Valencian Community, Spain. Part of the municipality is coastal but the city is some 15 km (9.5 miles) from the Mediterranean Sea.

Fuengirola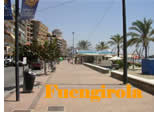 Fuengirola is a town and municipality on the Costa del Sol in southern Spain in the province of Málaga and the autonomous community of Andalusia. It is a major tourist resort on the Costa del Sol, with more than 8 km of beaches, and home to a medieval Moorish fortress. All the facilities to be expected of a major tourist centre - hotels, restaurants, bars, discotheques, sports clubs, a yacht harbour, and broad beaches along a promenade extending east and west from the town, that includes smaller adjacent villages.

Fuerteventura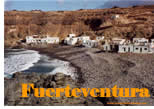 If your idea of holiday heaven involves nothing more strenuous than lying on some of the worlds best beaches and leisurely, unhurried nights in relaxing bars then escape the hustle and bustle of daily life and head towards the warmth and peace of Fuerteventura. You'll be able to take your pick from more that 150 beautiful beaches, including the sand dunes at Corralejo, some stretching as far as the eye can see.

Gijon

Gijon is a coastal industrial city and its municipality in the autonomous community of Asturias in Spain. It was an important regional Roman city, although the area has been settled since earliest history. The name was originally applied to a small peninsula presently referred to as Cimavilla, literally "top of village," between two beaches, one of which has a recreational port today. The main port, one of the largest in the north of Spain, is called "El Musel".

Girona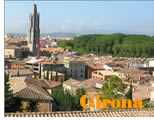 Close to Barcelona and half-way between the sea and the mountains, Girona enjoys a privileged position and preserves some of the most valuable heritage sites in Catalonia, based on three elements that are unique in Europe: its old fortifications, which include the western world's largest sections of wall dating from the time of Charlemagne, one of the best preserved Jewish quarters, and the Cathedral, which is the widest Gothic span in the world, with 23 metres of free space.

Granada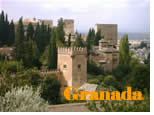 Granada is a university town with a strong Moorish influence, set in the Sierra Nevada mountain range. As it is a university town, the gay scene is mostly young, preppy types. There's a good variety of gay bars and many street side cafés to while away your time.

Ibiza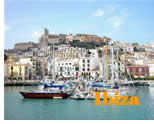 Ibiza has some of the best gay and gay friendly beaches, restaurants; night life and 'old town' scenery in Europe. All helping to make Ibiza one of the world's great gay holiday/vacation destinations. So if you are hanging on to the sensationalist naff reporting of the excesses of the San Antiono's 'West End' as an excuse not to visit the Island, get over it. Ibiza Town and the Dalt Vila provide exactly the opposite, in abundance.

Lanzarote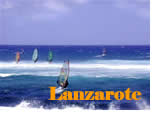 The vibrant island in the Canaries is home to only one gay bar, making it the perfect place to get yourself away and have a relaxing holiday. If you're used to Gran Canaria and want to try something new, Lanzarote is here to pamper you, and Lanzarote Gay Guide is here to direct you to the best bars, restaurants and beaches on the island.

Malaga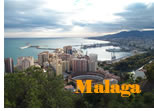 Ranking as the 5th largest metropolitan area in Spain. Málaga is surrounded by mountains, lying in the southern base of the Axarquía hills, and two rivers, the Guadalmedina - the historic center is located on its left bank - and the Guadalhorce, that flows west of the city into the Mediterranean. For its broad sky and broad expanse of bay the city has been compared to Naples. The gay area is called Plaza de la Merced.

Marbella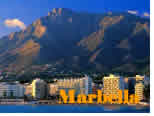 If you are thinking of going to Marbella for a gay holiday, it's probably not the place for you. There are just two small gay bars that rarely have more than a few clients in them, and even the gay beach is 15 kilometers away at Cabopino! Marbella is Spain's playground for the rich and famous, but the straight rich and famous!

Murcia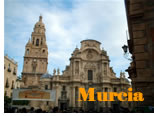 Murcia is built nearly in the centre of a low lying fertile plain, known as the huerta or market garden of Murcia, which includes the valleys of the Segura and its right-hand tributary the Guadalentín or river Sangonera, and is surrounded by mountains. Despite the proximity of the sea, the climate is subject to great variations. Murcia region's main attraction is it's lack of modern development, so has retained much of it's Spanish look and feel.

Oviedo

Oviedo is the capital city of the Principality of Asturias in northern Spain. It is also the name of the municipality that contains the city. Oviedo is the administrative and commercial centre of the region. The city also hosts the annual Prince of Asturias Awards, held in the Campoamor Theatre.

Palma de Mallorca

If your perception of Mallorca is of lager louts wearing Union jack shorts, packed into high rise apartment blocks, then maybe its time to think again. You'll be pleasantly surprised to find that the gay destination of Palma de Mallorca, the Islands capital town, is rapidly becoming one of Europe's trendiest places. Palma boasts many outstanding historic buildings, including the dramatic Cathedral and the gorgeous Almudaina Palace, excellent restaurants, and, if you feel like really bending your plastic friend (no, not that one!), some great shopping opportunities!

Santiago de Compostela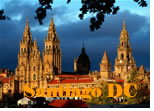 Santiago's GLBT community is well known in Galicia for being open and pluralistic. There are some leisure and commercial establishments that were created as a consequence of the recent development of our community. Excepting the sauna, that is exclusively gay, most bars have an important gay clientele, and, in fact, some of them are managed by gays and lesbians.

San Sebastian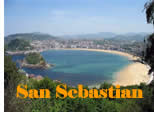 Donostia-San Sebastián, is the capital city of the province of Gipuzkoa/Guipuscoa, in the Basque Country. The city is located in the north of Basque Country, on the southern coast of the Bay of Biscay. San Sebastian's picturesque coastline makes it a popular beach resort. The city is referred to as Donosti in its own dialect of the Basque language.

Saragossa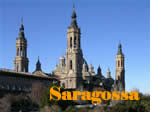 Zaragoza (formerly Saragossa in English) is the capital city of the autonomous region and former kingdom of Aragon in Spain, and is located on the river Ebro, and its tributaries the Huerva and Gállego, near the centre of the region, in a great valley with a variety of landscapes, ranging from desert (Los Monegros) to thick forest, meadows and mountains.

Seville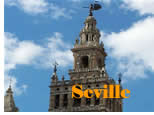 Seville is also a beautiful town shrouded in history and spectacular historical buildings. It has contrasts of narrow little lanes lined with restaurants and shops, many no wider than a couple of meters, but also has huge open spaces around it's grand parliment buildings and parks. Probably the most beautiful thing about Seville though is the people themselves. It spurns more than it's fair share of stunningly cute guys.

Tenerife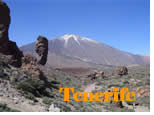 Situated just off the West African coast, enjoy golden and charcoal grey beaches, picturesque mountain villages, pretty coastal towns and year-round subtropical climates. Best known for the southern resorts of Playa de las Americas and Los Cristianos, it is up in the greener and more lush north that you will fins the far more attractive resort of Puerto de la Cruz and it is this part of the island which plays host to a friendly, long-established gay scene.

Torrevieja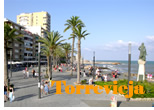 Torrevieja is a seaside city and municipality located on the Costa Blanca in the province of Alicante, in south-eastern Spain. Torrevieja lies about 30 miles south of the city of Alicante and was originally a salt-mining and fishing village as it is located between the sea and two large salt lakes (Las Salinas), which give Torrevieja a healthy micro climate.

Valencia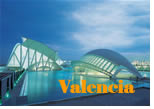 Valencia is a very gay friendly city, and has a large gay community that is getting bigger and bigger. With its small but growing and thriving gay scene it has everything and anything on offer! Clubs, pubs, bars, cafés, restaurants, saunas, sex shops. And most of this is crammed into the old town, Cuitat Vella/el Barrio del carmen. The Spanish have an ongoing reputation of not being overly gay friendly, but in dear old Valencia you never get that feeling.

Vigo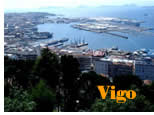 Vigo is one of the most important cities of Galicia, Spain, located in the province of Pontevedra. Vigo is the 14th largest metropolitan area of Spain. The city is well known for its fishing industry, shipyards, food, cultural and night life, and football team Celta de Vigo.