Welcome to Mykonos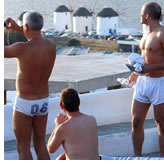 Mykonos has always been a popular destination for gay travellers ever since the island's glamorous jet set days of the 60's. It's never been cheap, but then its air of exclusivity, sophistication and magic would never have existed if it had been invaded by the package holiday Sangria crowds that most of us prefer to avoid!
The Greek island's reputation as a gay haunt goes back decades when the place offered a liberal respite from Britain's less than emancipated views of homosexuality in the 60's and 70's. Gay folks still flock to the tiny white paradise and, despite the influx of international pleasure seekers, it remains unspoilt and friendly.
The island of Mykonos is famous for its cosmopolitan atmosphere, its exciting nightlife, its picturesque Cycladic capital and its lively sandy beaches. You'll find some great beaches and bays, many of which are clothing optional.
Mykonos is a small island mostly made of grey rock. But it is a beautiful island, and one of the best world resorts for gays and lesbians. The city of Mykonos is a wonderful place to spend an enjoyable carefree vacation in international ambience. The city is post card beautiful with white Mediterranean houses, lovely windmills, stucco Greek Orthodox churches, and a busy port around which most of the town's life revolves.
Mykonos has condensed everything that's great about the 227 inhabited Greek islands into a space just nine miles long and six miles wide, so most accommodation is within easy reach of the town. Quieter resorts are available; San Stefanos, for example, offers a few cafés and a regular bus service into town. If you're a movie buff, you may want to stay in Ahios Ioannis, for the chance of spotting an extra from Shirley Valentine.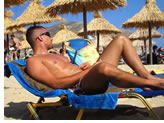 A short walk and you'll find the gay venues concentrated in three locations near the old harbour front. Don't expect Gran Canaria though; the venues here are more suited to unwinding; small, stylish but still sassy. Pierro's, Manto and Icaros are the most popular and they're easy to find - just squeeze through the immaculately dressed guys who spill out on to the streets near taxi square.
There are around ten gay bars and clubs on the island but they still create a varied scene. Cocktails can be quaffed at Kastro's at sun-set before dancing the night away at Pierro's. You can take in some show tunes at Montparnasse, steal a starlight kiss on the roof terrace at Icaros or try your luck in the testosterone-fuelled Porta Bar (located in a small alley at the opposite end of the harbour). Late night pursuits of a sexual nature can be found, rather ironically, next to aforementioned Greek Orthodox Paraportiani Church but cruising here is a bit more discreet than at other gay resorts.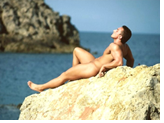 When it comes to beaches, Mykonos has hit the button - well all of our buttons at least. Not content with infamous but now straight Paradise they've taken things one step further (literally) and the aptly named Super Paradise is a sheer delight. There are three main beaches, Paradise, Super Paradise and Elia and while they may not be right on your doorstep, they are easily accessible.
All of these beaches are kitted out with all you'd expect and more. Protected by rocky headlands and thatched sunshades, the gay sections are strewn with naked bodies basking in the sun and small bars and restaurants catering to your every need. The crystal clear waters lap delicately on the shore and this gentle sound shifts up a gear at evening time as the bars become packed with revellers partying well into the early hours. Travelling round the island, there are a number of small secluded beaches which can often be found empty, so if you've always dreamt of a beach all to yourself, Mykonos is for you.

Mykonos Gay Accommodation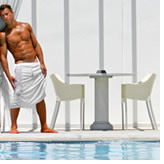 Mykonos Town is the place where most gay traveler prefer to stay. It's a place where cars are banned, is a maze of paved streets complete with stunning white-washed houses. We guarantee that the beauty of the town will dazzle you! Happy Gay Travel offer a variety of accommodation, most in Mykonos Town. These range from relatively reasonable priced to top end – with prices to match! If your favorite hotel is not here, then please feel free to contact us, as we are sure we would be able to obtain competitive rates. Accommodation only is available for all our product range to Mykonos, with any day arrivals. There may be minimum stay requirements, especially in the peak periods.