Mykonos Town - Chora



Number of rooms: 13 rooms
Rate range: From €70 EUR (per room per night)
Owned/Managed by: Fresh Hotel
Clientele: Very Gay Friendly









Located in the heart of Mykonos town the very gay friendly Fresh Hotel Mykonos (ex.Marios) offers the perfect holiday retreat in the embrace of the island's cosmopolitan grandeur. Conveniently positioned only a breath away from Mykonos Port, stunningly beautiful beaches and only 2.5 km from the island's international airport, Fresh Hotel Mykonos provides a great base from which to discover the island, visit the attractions and places of interest, walk through the narrow alleys to reach the designer fashion district and enjoy the renowned Mykonos vibrant nightlife.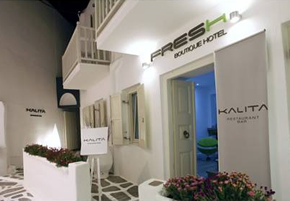 A Sublime Affordable Hotel in Mykonos Town
Nestled in the heart of the enchanting cosmopolitan Mykonos town in the captivating island of Mykonos in Greece the unrivalled, newly renovated bed & breakfast boutique hotel, Fresh Hotel Mykonos, encapsulates the island's cosmopolitan essence and alluring ambience in a world of modern elegance and contemporary comfort. Having recently undergone a change of ownership and appearance, the ex Marios Hotel Mykonos is now a refreshing and blissful oasis offering excellent bed & breakfast comforts and sublime relaxation, delectable Greek fusion dining delights along with a unique lodging experience of genuine hospitality. Fresh Hotel Mykonos is the optimum affordable hotel in Mykonos town reflecting the Cycladic spirit and the island's world-class splendor.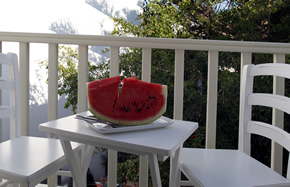 Modern Boutique Hotel in Mykonos Town
A perfect setting for an unforgettable island escape or romantic getaway, Fresh Hotel Mykonos is a charmingly modern bed & breakfast boutique hotel, ideally situated in the very picturesque vibrant capital of Mykonos Island, Mykonos town. Inspired by the brilliant Cycladic architecture with the sheer whitewashed walls and the elegantly paved courtyards this enchanting modern affordable hotel in Mykonos town, ex Marios Hotel Mykonos, envelopes guests in a warm embrace and provides all the essential elements for a spectacular holiday experience in the entrancing island of Mykonos in Greece.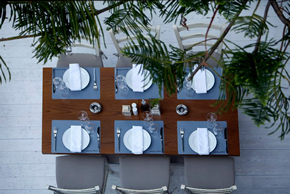 Delightful Garden Restaurant in the heart of Mykonos
Nuzzled in the colorful fragrant garden, the hotel restaurant "Kalita" allows guests to enjoy mouthwatering creations whilst savoring a few hours of peace and quiet. Greek fusion recipes combined with delicious cocktails and flavorsome wines are intermingled to create an unforgettable dining experience for guests to enjoy. Room service is available for those who prefer to enjoy their meals in the privacy and convenience of their room as they relax in the soothing and comfortable ambience.
Residents can start their day with a delicious breakfast prepared with fresh, high quality ingredients at the hotel's cozy breakfast room, before heading out for a walk in the town. Travel information can be acquired at the reception where currency exchange is also available, as well as car and bike rentals for daily excursions and visiting attractions or any other places of interest in Mykonos Island.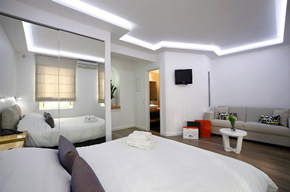 Luxury in a Contemporary Style Affordable Accommodation in Mykonos
The charming boutique hotel Fresh Hotel Mykonos offers distinctive services in a lavish, contemporary style affordable accommodation in Mykonos. Stylishly designed, the superior rooms and the elegantly appointed suite of this value for money accommodation in Mykonos Island of Greece offer a unique blend of modern comfort and authentic Cycladic charm. Embraced by a soothing color scheme, these sleekly sophisticated designed rooms feature contemporary finishes and modern conveniences generating a comfortable and relaxing ambience for a uniquely enjoyable holiday experience. The cozy and fully refurbished superior rooms in Mykonos, of the Fresh Hotel accommodation in Mykonos town exude freshness and comfort in a fusion of earthly tones and neutral nuances.
Designed for couples and friends alike, the cozy Fresh Hotel Mykonos is the perfect place for a refined relaxing vacation only a breath away from the pulsating Mykonos town in Greece. The exclusively designed suite as well as all comfortably spacious superior rooms of this splendid budget hotel in Mykonos for couples and friends reflect the island's unique character and unconditional charm and offer a serene atmosphere for a memorable vacation in Mykonos Island. All the rooms portray a breezy ambience and are tastefully fitted with name brand furnishings and modern conveniences in order to provide a comfortable homelike living environment for guests to enjoy.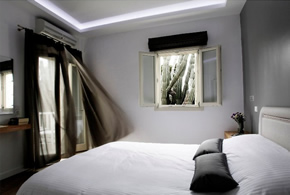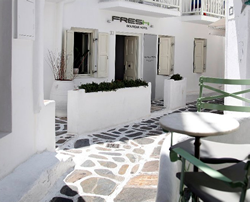 Location: The traditionally-styled Fresh Hotel is located in the heart of Mykonos Town.

Hotel facilities: Fresh Hotel is the ideal accommodation for those who want to stay close to town and party all night. The hotel includes 13 comfortable hotel rooms and several wonderful hotel facilities that guarantee a relaxing and carefree stay.

Room facilities: The Fresh is comprised of spacious, well-designed hotel rooms that guarantee a comfortable and enjoyable stay during your vacation on Mykonos Island .