Mykonos Town - Agios Vassilios



Number of rooms: 11 studios & apartments
Rate range: From €85 EUR (per room per night)
Owned/Managed by: Villa Konstantin Hotel
Clientele: Very Gay Friendly











The gay friendly Villa Konstantin Apartments and Studios Hotel is a marvellous gay holiday complex located on the Northern hillside, only 700 meters from Mykonos Town, the very picturesque capital of Mykonos Island. With a wondeful view of the Aegean Sea and its friendly hospitality, the Villa Konstantin Hotel is one of the most inviting places to stay near Mykonos Town.
This beautiful Mykonos Town hotel is waiting to welcome you to the vacation of you lifetime! Villa Konstantin offers guests a wide range of accommodation to choose from, including Mykonos Town hotel apartments, rooms and studios that cater to all types of visitors.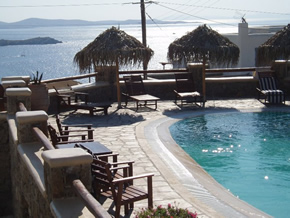 The Villa Konstantin Hotel near Mykonos Town provides a variety of accommodation, such as studios, apartments and rooms for rent, which cater to couples, groups of friends, or families, depending on the specific needs of our guests. A wide array of hotel services and facilities are available, including a swimming pool, a Jacuzzi, and more. Close to the hotel, guests will find the island's unparalleled nightlife venues, with dozens of bars, clubs and cafés packed with visitors from all over the world having the time of their lives.
The Villa Konstantin Apartments, Studios & Rooms, located close to Mykonos Town, belong to the 3-key category of Mykonos hotels and operate from April 1 - October 20.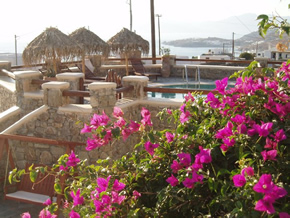 Villa Konstantin is located 700 metres up on the Northern hillside of Mykonos town. A ten minute walk down into the centre.It is a small complex of studios and rooms. Overlooking the Aegean and offering wonderful sunsets and an feeling of openness not to be found down in the centre. Classed as self-catering studios and apartments the Villa Konstantin is quite different in style to the modern hotels of today and is more of a throw back to the past . Many of the rooms are presented with built in beds and wardrobes and others have the rocks of Mykonos built in to them. Each room is different and has its own unique style. Appealling to those who prefer a 'Home away from home' feel.'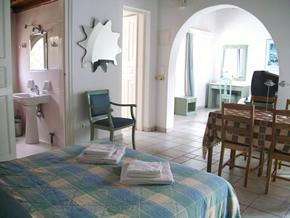 Friends Rooms
Friends rooms that are the ideal accommodation for groups of 2 to 4 friends. Our friends rooms are fully-equipped and stylishly decorated to offer a pleasant stay. These units are air-conditioned hotel rooms and studios which include an en-suite bathroom, a TV, a fridge, a telephone and a terrace or a balcony. Most of our Mykonos hotel rooms have spectacular sea views.
Studios
Villa Konstantin also offer studios that include all the facilities of the aforementioned rooms but that also have the additional feature of a kitchen, allowing you to prepare breakfast and small meals, as it is equipped with a hot plate, a coffee pot, a fridge and cooking pans and utensils. Almost all of our studios have excellent sea views.
Family Apartments
Family apartments are designed for a maximum of five persons. Each apartment contains a private bedroom with a double bed and a second bedroom with a double bed, which is connected to the living room that has an sofa bed for a fifth person. The family apartments are fully air-conditioned and include a TV, a fridge, a kitchenette with cooking utensils and coffee/tea making facilities, a bathroom and a large terrace with direct view of the amazing Aegean.
Family & Friends Apartments
The family and friends apartments of the Villa Konstantin are open-plan style rooms ideal for friends and families who want to be together, and accommodate from 2 to 4 persons. They are roomy and designed to offer guests a comfortable and enjoyable stay. They include a kitchen and a spacious terrace with a breathtaking sea view.
Lovers Studios
Villa Konstantin also provides lovely hotel studios designed especially for couples. Lovers Studios are air-conditioned and are comprised of double beds, en-suite bathrooms, kitchen corners, TVs, telephones and small terraces with wonderful views of the extraordinary Aegean Sea. The Villa Konstantin lovers studios are the ideal honeymoon accommodation close to Mykonos Town. These honeymoon suites include a cosy double bed just for two.
Groups' Studios
If you are travelling with a group of friends, you may also choose one of our group studios near Mykonos Town, which feature a double bed and two single beds, and can accommodate up to 4 persons. They are air-conditioned and each one features a telephone, a TV, a kitchenette and a veranda with a splendid sea view.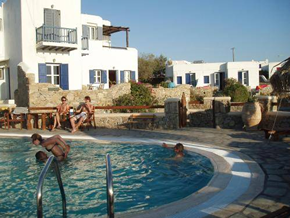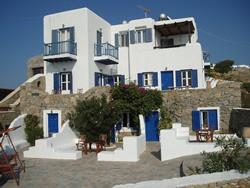 Location: Agios Vassilis, above Tagoo area, on hill overlooking Town and Port - about 700m (12min walk uphill) from Town, 7min downhill.

Hotel facilities: Large communal area, is also open in the evening for snacks & drinks, TV & internet connection.parking space, room service, mail facilities, harbour or airport transfers, new reception area with safe boxes & information services, Kindergarten, communication services, room, roof terrace with sea view. Pets allowed.

Room facilities: All units: sea-view terrace or balcony, kitchenette (with hot plates, fridge, coffee pot, pans & utensils), color TV, private facilities with shower, air-conditioning, direct dial phone.