Mykonos - Platis Yialos



Number of rooms: 83 deluxe rooms & suites
Rate range: From €165 EUR (per room per night)
Owned/Managed by: The Myconian Collection
Clientele: Gay Friendly











Set in an ideal position, overlooking the famous beach of Platis Yialos, the gay friendly Myconian Ambassador Hotel & Thalasso Spa Center will offer you an experience of a Mykonos luxury hotel beyond compare.
A truly five star luxury resort hotel, the Myconian Ambassador Hotel will take you to journey of extraordinary senses woven with the Mykonian style and a futuristic, contemporary, touch of luxury.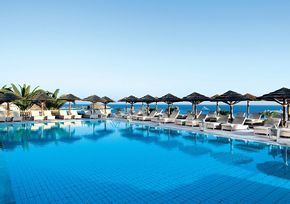 Myconian Ambassador Hotel & Thalasso Spa Center is a Mykonos luxury hotel of distinctive character, run by a family who has passion for hospitality recognized by the prestigious signature of Relais & Chateaux. Relais & Chateaux is a family of hoteliers and Grand Chefs from all over the world who share a passion for a personal commitment to ensure their guests privy to moments of exceptional harmony. To choose Relais & Chateaux is to experience an unforgettable celebration of the senses.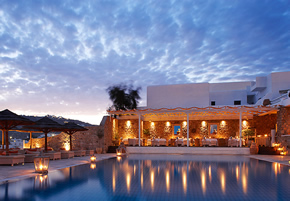 A holiday at this superb hotel really is the holiday of a lifetime: those with the cash to splash might well opt for one of the superior rooms or even a suite, but bear in mind that even the 'ordinary' rooms can reasonably be classified as deluxe.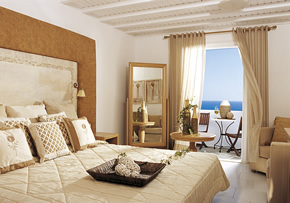 You can see below that certain rooms offer a private pool shared with the neighbouring room, but whichever room you go for you'll find that they're all beautifully decorated, large (the smallest is 28 m2 and the largest a massive 50 m2) and extremely well equipped.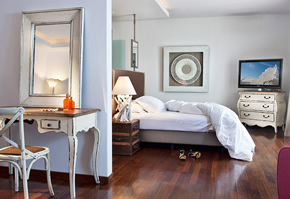 All have stunning views and feature air conditioning, satellite television, a safe, a mini stereo, DVD player, ironing board, minibar, full length mirrors, internet access with, of course, a beautifully appointed ensuite bathroom.
Naturally, maid service takes place seven days a week and they'll even turn down your bed at night time so you don't strain yourself too much.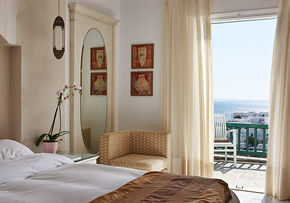 The multilingual hotel staff are dedicated to ensuring that you get the very best from your stay, whether you're dining in the Aphrodite Restaurant, the gourmet Apollon à la carte restaurant or enjoying a drink at the pool bar or, if you prefer, the chic cocktail bar Sirene.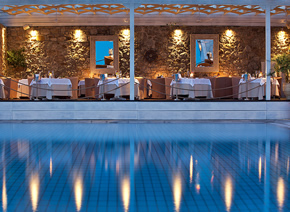 The Ambassador aims to provide the ultimate personal pampering experience with one of the best spas in Mykonos, three different pools of essential oils, therapeutic salts and hydro-massage, plus a broad range of 'wellness' treatments specially designed to relieve aching joints, to build muscle tone or to eliminate all those nasty skin toxins. These treatments can frequently be offered in a guest room or suite for total privacy.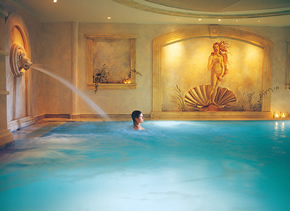 If you're into diving then you'll really appreciate the hotel's own Dive Centre, giving you the chance to discover the amazing underwater world of Mykonos. No old boots and discarded bicycles here; instead, explore mystic caves, mysterious grottos and fortified wrecks, for beginners and old pros alike.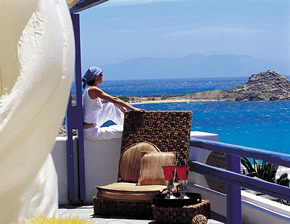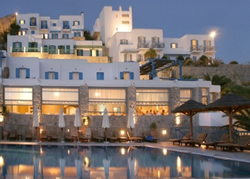 Location: Hilltop, 300m above Platis Yialos Beach; a central and popular south-coast beach, about 4 km from Mykonos Town, 4 km from airport and 5 km from harbour.

Hotel facilities: 24 hour reception with information desk, safe deposit boxes, A/C - heating in common areas, American breakfast, 'A La Carte' restaurant "Aphrodite" with delicious cuisine, "Sirene" lobby bar & cocktail lounge, "Apollon" pool-bar, for snacks & refreshments, swimming pool, outdoor Jacuzzi, hair salon, gym, aerobics, tennis court, squash, mini-golf, table tennis, outdoor chess, satellite TV & video room, gift shop, boutique & jeweller, elevator, parking. Unique indoor Thalassotherapy Spa offers 3 sea water pools, hammam, sauna, full range of beauty therapy treatments and massage, (single a la carte treatments or carefully balanced packages).

Room facilities: A/C with individual temperature control & heating, radio and colour 21 inches satellite TV, mini Hi–Fi System, CD/VCD/DVD Player, fully stocked mini bar, in room safe, twice daily housekeeping, porcelain bathtub in marble bathroom, hair dryer, shaving mirror, full-length mirror, cotton oversized bath towels, down pillows, thick bathrobes, full range of Kore Luxury natural products and bathroom amenities. International direct-dial multi-line telephone, computer available, high speed email and internet access, modem phone jack, voice mail, speaker phone. Ironing board. Balcony or terrace. Wheelchair access. Non-smoker rooms on request.