Mykonos - Elia



Number of rooms: 15 Suites
Rate range: From €150 EUR (per room per night)
Owned/Managed by: Arte & Mare Suites
Clientele: Gay Friendly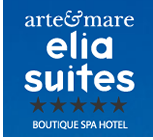 Arte & Mare Elia Suites is a gay friendly luxury boutique hotel offering 15 distinct suites with an amazing combination of colors located at Elia Beach in Mykonos. The only 5 stars hotel in Mykonos located 20 meters from the beach!
Located at Elia Beach, one of the island's best and most reputed beach, about 10km from Mykonos Town, and 2,5 km away from Ano Mera Village.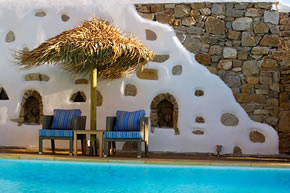 Arte & Mare Elia Suites is a brand new establishment, first opened in 2008, and a creative collaboration of a Greek and an Italian leading architect. Its distinctive architecture is the result of an exceptional tying of the Mykonian architecture with stone washed white walls and the frugal Italian interiors with vibrant colors.
The transportation to the town of Mykonos is very convenient as there is both the public transportation as well as the Arte & Mare shuttle bus which is offered for free to customers.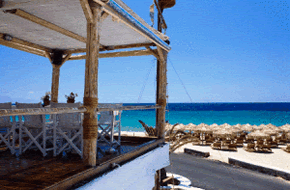 Facilities & Services
• Beach Restaurant a la carte
• Capelayo beach bar
• Swimming Pool
• Umbrellas and sun-chairs for the pool and the beach
• Pool bar
• Watersports and toys (waterski, Jet-ski, parachute, tubes, flying fish, banana)
• Room-Service
• Laundry and ironing services
• Tours
• Car Rental
• Yacht Rental
• Newspaper upon request
• Internet access in the reception
• Beauty therapy upon request
• Porter service
• Beach service
• Transfer service Elia-town-port-airport.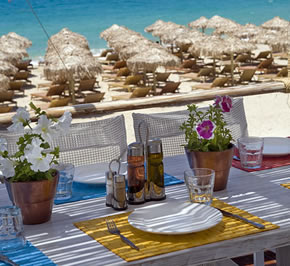 Capelayo Restaurant
Selected local ingridients, creative Meditterean cuisine, quality, superb location on Elia beach and unique atmosphere. Capelayo Reastaurant is a must in the Mykonian food scene. The name Capelayo comes from the naval tradition of Mykonos and stands for the sail of old small food carrier boats.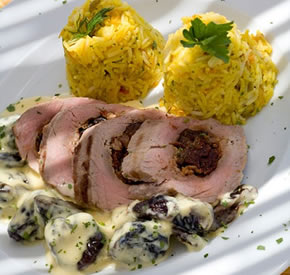 Capelayo Restaurant is divided in two levels. The upper level, decorated with atmospheric touches, travels your senses at another era as the tables seems to stand at the deck of an old ship. The ground level is dominated by the beach bar. Vivid music and refreshing cocktails by the beach.
Breakfast
A rich american buffet breakfast served by the sea. It's the perfect way to start another exciting day in Mykonos. Home made sweets and a choice of fresh bakeries distinguish from the great variety of tastes in offer.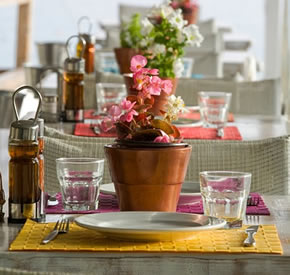 Arte & Mare Mykonos Wellness & Spa
Spoil yourself with the unique beauty treat and therapeutic effect of the services offered by the Arte Mare Suites Spa. Thalassotherapy, aromatherapy, reflexology, sauna and hamam treatments promise you euphoria, relaxation and calmness.
Stay fit exercising in our state of the art hotel gym.
Watersports Center
Our water sports center operates in Mykonos Island since 1985 with great success. The equipment includes 3 Ski-Nautique boats, 1 Air-Nautique, 2 outboard motor Ski boats and 1 Parachute boat, as well as six 4-stroke Yamaha Jet skies (2007 models). The instructors are experienced professionals eager to assist the water sports enthusiasts.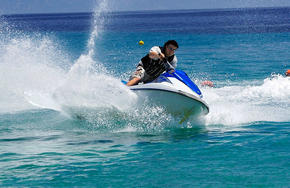 We also organize boat tours to all the beaches of Mykonos and to Tragonisi islet (a small islet close to Mykonos). Elia is a long well protected beach with excellent weather conditions and crystal clear waters. It is an ideal beach for water ski, as well as for other water sports activities and toys such as Jet-ski, parachute, tubes, flying fish and banana.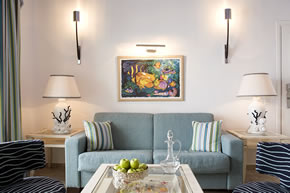 In Room Amenities
• Air-conditioning
• Bath tub with Jacuzzi
• Tv flat screen
• Hairdryer
• Bathrobe and slippers
• International dial direct tel.
• Fully equipped kitchen area
• Sitting and living area
• King size beds
• Mini bar
• Safe deposit box
• Satellite channels
• Hi-Fi Radio and Cd player
• Internet access
• Wake up call
• Magnifying mirror.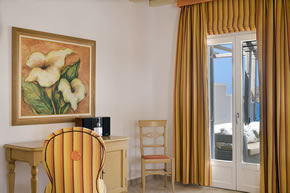 Efficient design, modern amenities, wooden ceilings painted in vivid colors, white washed walls, elegant decoration with handpicked furniture and discreet lighting. These elements form the unique style of each Suite.
Superior Sea View Suites
Spacious Suites, about 50 square meters, that can accommodate 1 to 4 guests. Superior Sea View Suites consists of a separate bedroom and a large sitting area. At the sitting area a fully equipped kitchen can be found. Every Superior Sea View Suite has a bathroom equipped with Jacuzzi or steam bath and an impressive capacious veranda that offers a spectacular view of the Elia beach and the endless blue of the Aegean Sea.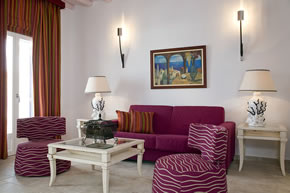 Superior Pool View Suites
Pool View Suites are at ground level by the hotel's pool. Sharing the configuration of the Superior Sea View Suites can also accommodate 1 to 4 guests. The vicinity of the verandas with the hotel's pool offers immediate access to the water.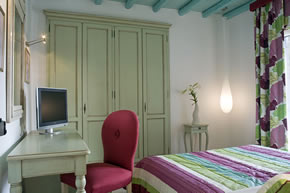 Executive Suite
Spacious Suite, about 60 square meters, that consists of 1 bedroom, a living room with a fully equipped kitchen and a bathroom with Jacuzzi bathtub. Executive is the most private and quiet Suite of Elia Arte & Mare.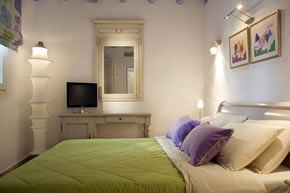 Family Suites
Family Suites consists of 2 bedrooms, a living room a fully equipped kitchen and two bathrooms. An ideal configuration to accommodate families or group of friends up to 6 persons that choose to visit Elia Art & Mare Suites.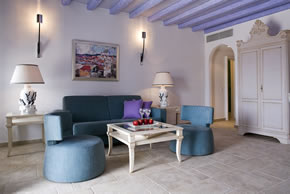 Junior Sea View Suites
The Junior Suites, 35 to 45 square meters, consists of a main bedroom and a sitting are separated by a wooden screen. They can comfortably accommodate 1 to 4 guests. From the verandas guests can admire Elia beach and the Aegean Sea.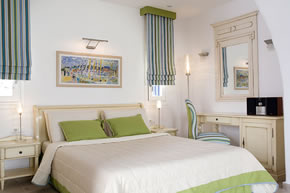 Junior Pool View Suites
Situated at the ground level Junior Pool View Suites are ideal for deep relaxation by the pool. With the same configuration with the Junior Sea View Suites can comfortably accommodate 1 to 4 guests.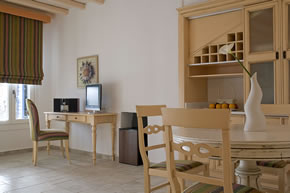 Presidential Spa Suite
Presidential Suite, about 150 square meters, offering magnificent Sea-View from a private balcony with a large outdoor spa. Consist of three master bedrooms, one of which has a sky light, a big living room with a queen sized sofa bed and a fully equipped kitchen. Can easily accommodate up to 8 persons. All rooms have a 19' flat plasma TV. The spacious living room is equipped with comfortable seating to relax in and a 32' flat plasma TV. The Presidential Suite also offers four bathrooms (three master and one smaller), one of them with a Jacuzzi tub, and there is also one with a big steam cabin with chromatotherapy. One of the highlights of the Presidential Spa Suite is the floor, which is like the floor of a sailing boat all made from teak wood by famous sailing boat carpenters.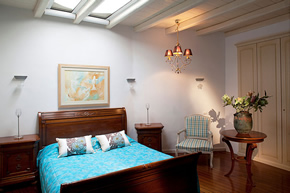 Elia Beach
Located at the south part of Mykonos island, Elia is on of the longest beaches in Mykonos with fine sand and shallow crystal clear waters. Elia is a well organized beach offering umbrellas, sun beds and watersports activities. Refreshing cocktails and food are served on the beach. Despite the development Elia has preserved it's natural beauty.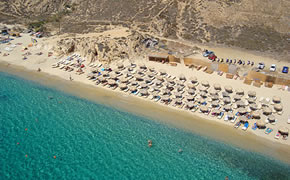 Elia beach is 8km away from the capital of Mykonos and there is a frequent bus connection with Mykonos town. Elia can also be reached with small boats (Caiques) departing from Platys Gialos beach. Small boats, departing daily from Elia, reach the nearby beaches of Paranga, Agrari and Paradise. Elia is ideal for watersports activities as it is a well protected long beach.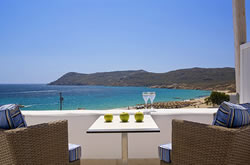 Location: Elia Beach, one of the island's best and most reputed beach, 10km from Mykonos Town, 2,5 km away from Ano Mera Village.

Hotel facilities: Capelayo beach bar-restaurant , Swimming Pool, Umbrellas and sun-chairs for the pool and the beach, Pool bar, reception, small pool surrounded by terraces, Porter service, Internet access in the reception. Watersports and toys (waterski, Jet-ski, parachute, tubes, flying fish, banana), Room-Service, Laundry and ironing services, Baby sitting, Newspaper upon request, Beauty therapy upon request, Beach service, Transfer service Elia-town-port-airport.

Room facilities: Air-conditioning, Bath tub with Jacuzzi, Tv flat screen, Hairdryer, Bathrobe and slippers, International dial direct tel., Fully equipped kitchen area, Sitting and living area, King size beds, Mini bar, Safe deposit box, Satellite channels, Hi-Fi Radio and Cd player, Internet access, Magnifying mirror