Mykonos Town - School of Fine Arts



Number of rooms: 22 rooms
Rate range: From €60 EUR (per room per night)
Owned/Managed by: Kousathanas family
Clientele: Very Gay Friendly











The gay friendly Little Rochari Hotel is the baby sister of our original Rochari Hotel, where every guest is special and you are welcome as a part of the Kousathanas family. Kousathanas family have been attending to guests for more than 30 years with a personal touch and own brand of hospitality and now offer an extension of this with the opening of Little Rochari Hotel.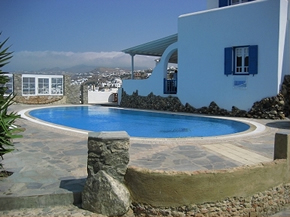 Renovated and continuously updated, the Little Rochari is a relaxed and peaceful haven overlooking Mykonos town, the Aegean sea and the neighbouring islands. We take great pride in attending to our guests with a personal touch and shall do our utmost to accommodate your wishes in order to make your stay with us a comfortable and pleasant experience you'll remember.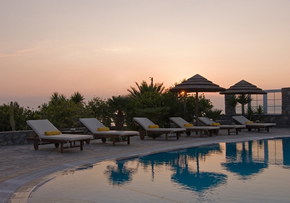 The Little Rochari has a perfect location up on the western slopes of Mykonos overlooking the town as well as the neighbouring islands of Delos, Tinos and Siros. Not to mention the spectacular sunsets...
While our hotel is just high enough up the hill to offer stunning views, it is conveniently close to the centre of town. The old port is just a five minute walk away, the central bus stop a mere fifty metres down the road. The airport and the New Port can be reached by car or taxi in less than ten minutes.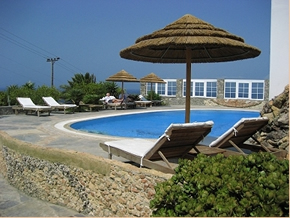 We strive towards making your stay at the Little Rochari comfortable and pleasant. Here are some of the services we offer:
• Hotel bus service upon arrival and departure.
• Private parking lot.
• 24 hour front desk: travel confirmation, transport arrangements, car and bike rentals, restaurant reservations, special arrangements of parties and receptions, medical assistance etc.
• Rooms with dial-in phones, air conditioning, mini fridge, hairdryer, safe deposit boxes and cable TV.
• Breakfast buffet 8.00 am to 1.00 pm.
• Bar 1.00 pm to 1.00 am.
• Swimming pool (5x10m) 8.00 to 1.00 am.
• Wireless internet access in the bar and lounge.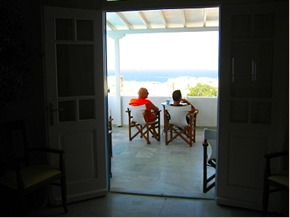 A little tranquility in the midst of bustling Mykonos, the Little Rochari is characterised by its relaxed, quiet atmosphere. Our hotel sits in a very convenient location on a hillside overlooking the town and offering beautiful views. The town centre and the old port are only a few minutes' walk away, just like the original Rochari Hotel.
Our rooms offer comfort and serenity at very reasonable rates. Almost all of them have terraces or balconies with sea view. The breakfast room, lounge and bar adjoin the terrace, and a little private swimming pool welcomes you as soon as you enter the property.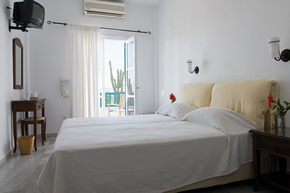 Almost all the rooms at the Little Rochari Hotel have balconies or terraces with a view. You may choose from the following options:
Single Rooms have a queen size double bed and a balcony with sea view.
Double Rooms have either one double bed or two single beds and are perfect for couples or close friends. All double rooms have a terrace or a balcony with sea view.
Triple Rooms have three single beds and a balcony with sea view. Triple rooms are ideal for small families or friends.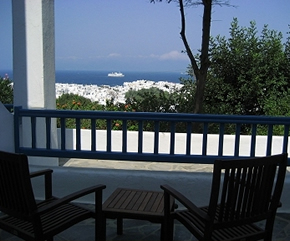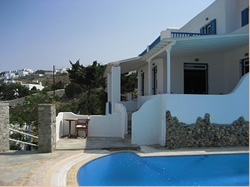 Location: School of fine arts area, about 300m above Mykonos town, 1,5 km from airport, 1 km from harbour.

Hotel facilities: Swimming pool, breakfast room, bar, snack bar, TV room, 24-hour reception, safety boxes, parking facilities,no transfer, room service

Room facilities: Air-conditioning, private facilities, Colour cable TV, mini bar, direct dial telephone, music, in-room safe. Balcony with wonderful view to the Aegean Sea & overlooking Town.