Mykonos Town - Chora



Number of rooms: 11 rooms
Rate range: From €80 EUR (per room per night)
Owned/Managed by: Mykonos Chora Apartments
Clientele: Gay Friendly




In the heart of the capital of Mykonos, the island "created by the Gods for people", as the most cosmopolitan island of Greece is lyrically described, you will discover Mykonos Chora Apartments, a hotel complex with 11 rooms (3 apartments and 8 studios), painted in the colours of the sea and the sky, equipped with all the modern amenities and "wrapped up" in a traditional packaging.
You will spend relaxing moments by enjoying the fantastic view from your balcony and unwind with lovely walks and island tours.
Elegant and well designed, as everything here, in the «island of the winds», welcoming and comfortable, as the ideal hotel should be, Mykonos Chora Apartments complex combines the three most important features that one should expect from his stay: a perfect location, in the heart of Chora, with idyllic view, very well attended, spacious rooms and a truly hospitable feeling.
Getting to Mykonos Chora Apartments is easy, either by private means or by the Local Buses (KTEL), since one of the main bus stops is located at Fabrika square, where Mykonos Chora Apartments is located. There couldn't be a more perfect location, quite far from the busy center and at the same time very close to the vivid nightlife. Walking along the cobblestone streets, besides churches or passing by the freshly painted houses with the blue shutters, embraced by the vivid island tradition and the high spirit of the starry summer nights, you will discover Mykonos's secret beauties.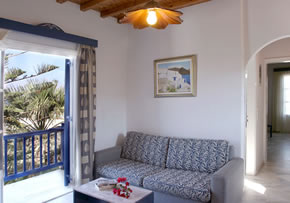 Mykonos Chora Apartments consists of 11 spacious rooms distributed in 2 floors: 1 apartment and 5 studios on the ground floor and 2 apartments and 3 studios on the 1st floor.
The 11 rooms, are divided as follows:
3 apartments, catering to 1 – 4 guests (1 double and 2 single beds)
8 studios, catering to 2 – 3 guests (4 double and 4 triple occupancy)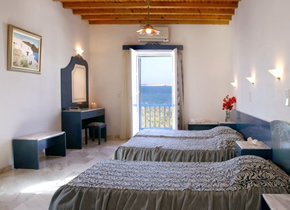 The rooms are spacious and comfortable, in order to offer the most convenient stay, while they are well looked after and daily maintained. Most of them share a perfect view and have their own private balcony, ensuring the most romantic start or end of the day, by enjoying the serene dawn or the majestic sunset.
Room Amenities:
Bath with bathtub or shower, Fully Equipped Kitchenette, Fridge, Sitting & Dining room, Desk, Air Conditioning, cable TV, CD/DVD Player, Closet, Hair Dryer, Direct Telephone Line, Safe Deposit Box, Coffee/ Tea Facilities, Ironing Board and Iron (on request), Private Balcony or Terrace, Beach Towels, Wi – Fi Internet Access, Non – Smoking Rooms Available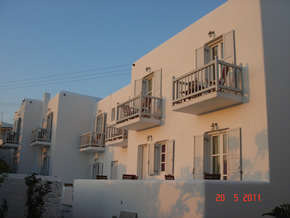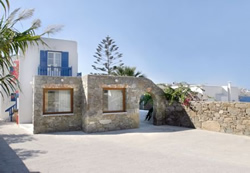 Location: Near Fabrika square, in the centre of Mykonos town. A tranquil area only 5min. walk away from town center.

Hotel facilities: Cycladic style building set in a nice garden. Internet access, parking.

Room facilities: Apartments with telephone, colour TV, air-conditioning, fully equipped kitchen, bathroom with bath tub, balcony or terrace facing sunset and sea.