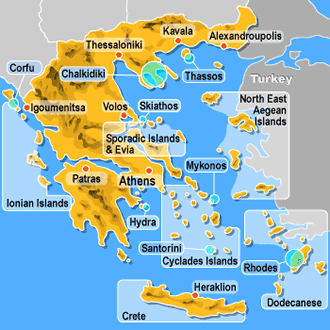 Choose where to go
The 5 main gay cities in Greece
Mykonos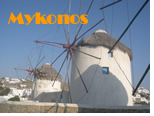 The most cosmopolitan destination in all of Greece, Mykonos has long been known for its incredible, long sandy beaches overflowing with singles looking to connect, honeymooners beginning their new lives together, couples, families, surfers, and gays, all enjoying the crystal clear waters and brilliant sunshine. Mykonos is also renowned for its outrageous nightlife, with more bars and discos per square foot than just about anywhere else on the planet. Its trendy shopping has attracted even the likes of Armani, Donna Karan, Cartier, and Bulgari, just to name a few.

Athens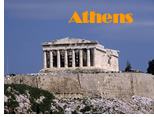 Athens, the post Olympiad center of the country, is one of the most modern and fast-developing cities of Europe, with a cultural heritage that is one of the richest in the world. The Acropolis with the Parthenon, the Ancient Agora with the Pnyx hill and Thesseion temple, the Theater of Dionysus, the Philopappus hill, the Lycabettus hill, the Andrian Arcade, not to mention the Athens Archaeological Museum, one of the finest museums worldwide, can tempt the inquisitive visitor to travel to Athens or to extend his or her stay to several weeks. Athens accommodation and lodging are of the highest caliber, be it luxury hotels, high quality self-catering apartments, or tidy bargain-priced family owned hotels.

Lesvos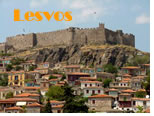 Lesvos, the island of lush greenery. The island of award winning beaches, traditional ceramic-roofed villages and of friendly locals ever ready to share with you a glass or two (or three!) of the best ouzo produced in Greece! Lesvos is full of history and a natural, topical beauty that is breathtaking! Like its magical Petrified Forest with 22 million years of history hidden among its tree barks, the charm of Lesvos is impervious to time. The mass tourism that has spoiled other islands has not affected Lesvos in the least bit. Lesvos is the perfect island getaway for people who want a real slice of Greek life!

Santorini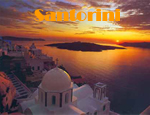 Santorini, the romantic, the coveted destination of honeymooners, with its precipitous heights placing them between God and their future lives. Santorini of the archaelogical site of Akrotiri, with wall frescos in this prehistoric city buried under tons of volcanic ash, and of the multicolored sand beaches of white, red, and black. Though appearing quite small on the map, Santorini offers so much for its size ... unique natural volcanic scenery, a long and rich history, an ancient and splendid Greek culture, marvellous food and Santorini wine, an ideal Mediterranean climate, outstanding accommodation with superb service, moderate prices, and friendly people who offer true Greek hospitality ... all guaranteed to bring you back many times throughout the years to come.

Thessaloniki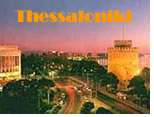 Thessaloniki is the second largest city of Greece, also the capital of Macedonia. Its landmark is the White Tower, and there are many important sites within easy reach. Apart from being known as a cosmopolitan and commercial center, it is also known for its exceptional nightlife with the famous Ladadika quarter. The music scene in the city is vibrant and diverse and includes nightclubs, dance halls, discos, cafés and music bars, jazz clubs, gay bars and clubs, and a wealth of live performances, both musical and theatrical. It is, after all, the cultural capital of northern Greece!

All other cities, in alphabetical order
Corfu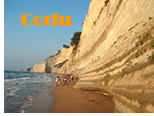 Flaming sunsets, exotic scenery, magical colours, romantic moonlight, luxurious vegetation, (lush green even in the height of summer) a riot of radiant flowers and colourful blooms, centuries old silver olive groves, glowing oranges, scented lemons, rich pergolas, sleepy lagoons, forgotten coves, bubbling springs, exciting caves, virgin beaches, golden sands, and pellucid turquoise emerald seas there is surely no other island in the whole universe to which these superlatives collectively apply.

Crete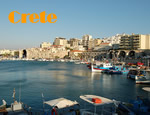 Crete is a large island of amazing variety. It combines snow-capped mountains, rolling hills covered with olive trees and over 1000 km of varied coastline. Crete has far more endemic plants than any other island in Europe. Crete is also a mix of large tourist resorts, small fishing villages, remote settlements and cities such as Chania and Heraklion which have been inhabited for almost 8000 years. Whether you come to Crete for the sea and the sun, the culture and traditions, the peaceful seaside villages of South Crete or the dramatic landscapes, there is something for everyone.

Hydra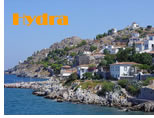 Hydra is a very unique island. Hydra town was built in a brief period of prosperity in the late 18th and early 19th centuries and it has retained its beauty thanks to an architectural preservation order which has kept the town's appearance as it was in the 1820s. More than a dozen three- or four-storeyed mansions survive around the port. Most of the action is concentrated around the waterfront cafιs and shops. Visitors must walk virtually everywhere on Hydra.

Kos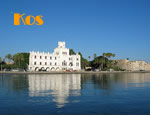 Kos is a dolphin-shaped island. Don't come here looking for anything very Greek; the kafeneia and ouzeri have been replaced by fast-food joints and euro-cafes. The streets are packed with T-shirt and ta-tty gift shops. Even the architecture isn't particularly Greek, mostly due to the 1933 earthquake, since the Italians contributed some attractive Art Deco buildings. fo So, what is Kos exactly? Kos has been described as a mini California: sweeping golden hills, vineyards, groves, orchards, pale cliffs. The first things you see when you arrive are the silhouettes of the mountains behind, palm trees and a medieval castle by the port.

Naxos

Naxos, first settled in 3000 BC, is the largest island of the Cyclades group. Undiscovered by most tourists, Naxos has been caressed by mythology in many ways. See, it's the place where Zeus, the king of gods was born and raised, in mount Zas. It's also the place where Theseus abandoned Ariadne and Dionysus, the god of wine met her and married her. Quiet and peaceful villages; rich gardens; vineyards; orchards; Venetian watchtowers and a bunch of historical sites.

Paros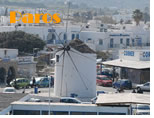 The island of Paros is one of the largest island of the Cyclades. It consists mainly of large valleys and is mountainous only in its central part. It has developed into an important center of tourism in the recent years. Due to its size Paros satisfies any visitors needs, whether looking for relaxing or adventure holidays. Paros has many beautiful sandy beaches, others long and wide and others hidden and small.

Rhodes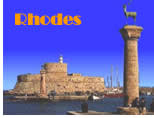 The Island of Rhodes is the sunniest place in Europe; it averages 300 days of sunshine per year. It is the fourth largest island in Greece. Occupied by Italy until only 56 years ago, it is now "occupied" by thousands of enthralled international visitors. When you are tired of going round in the Old Town, the New Town of Rhodes, just a short distance from the Old Town, awaits your exploration. This is where the beaches lie, and where hotels, shops, restaurants, discotheques, and even a casino, are packed together to create a lively ambience.