Mykonos Town - Tagoo



Number of rooms: 34 rooms & suites
Rate range: From €230 EUR (per room per night)
Owned/Managed by: Kouros Hotel
Clientele: Gay Friendly









Officially an A-class hotel, but well worth the extra little plus sign, the Kouros is located about 400 metres from the centre of Mykonos Town, not too far from the Hotel Gorgona.
The deep blue of the Aegean sea, the stark light, the magical sunsets, the sweet jasmine-perfumed night, the smiling faces...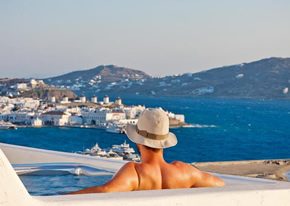 Gay friendly Kouros Boutique Hotel is built right on the sea front offering a panoramic view and superb hospitality.
The traditional architecture of Mykonos, where the old and the new merge harmoniously will carry you away into a rejuvenating experience which ignites the senses.
Built into a cliff side overlooking the Aegean and recently fully refurbished, the hotel is designed so that fabulous sea views can be witnessed from every single room. And we really do mean fabulous - sometimes, at sunset, the view from your balcony can genuinely take your breath away, and that's even when you're sober.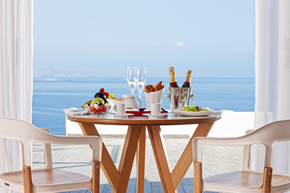 There are 24 individually designed luxurious rooms and 11 concept suites which all boast an elegant blend of unique traditional and modern style.
All Kouros deluxe rooms offer a harmony of grace and comfort and a breathtaking sea view from each private balcony where you can enjoy the sun diving in the horizon.
Each of these spacious, comfortable rooms has a seaview and a balcony or terrace, plus its own ultra-modern bathroom, satellite TV, air conditioning, a phone, a fridge/minibar and audio equipment. Room service adds that little bit of posh.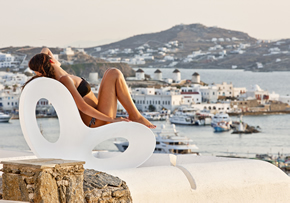 Blue and white follows you everywhere. On the beaches and narrow streets of Mykonos and in all parts of the hotel as well. The pool tempts you all day long. You will have breakfast overlooking it's clear waters, then have a swim and lie under the sun with your favorite cocktail or snack by your side enjoying the pool bar's excellent service. And when the sun sets, party with your friends enjoying the miraculous view.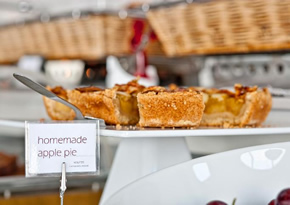 Breakfast is included in your holiday price, and this takes the form of an American style buffet, and there's also a large swimming pool, and two bars - one indoors and the other by the pool. The Kouros' in-house laundry service will help ensure that you look your best when you go out on the pull and safety deposit boxes are available free of charge from reception.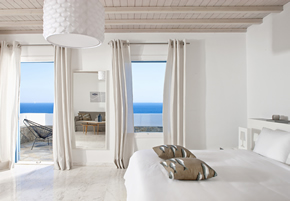 There's also a gym, a spa (payable locally) and sauna on site, which is rather splendid, don't you think? Maid service takes place every day and the hotel even offers a secretarial service.
Use the hotel's gym and spa to pamper your body during your holidays. Our fully renovated gym offers state of the art technology in pleasant surroundings. After your exercise session, the spa's specialist will help you relax and rejuvenate yourself. Additional beauty salon services are provided. Professional hair-dressers, beauticians and nail artists are here to satisfy your individual needs.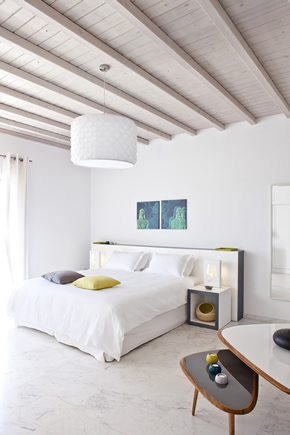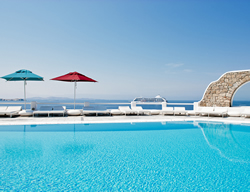 Location: Calm Tagoo area, short up-hillside walk from port/Mykonos Town (about 600m).

Hotel facilities: A/C throughout, large & sunny very well furnished lobby & 24 hr reception, high-speed internet connection & guest safe, spacious sitting areas with wonderful views, large outdoor terraces, sunset bar for cocktails & long drinks, large swimming pool (fresh water), pool snack bar, breakfast room with outstanding views, American buffet breakfast, TV lounge, 2 parking areas, Well equipped fitness center and hammam.

Room facilities: Modern bathrooms with bathtub, A/C - heating, direct-dial phone, minibar, safe box, hairdryer, colour satellite TV, 3 channel music, big balcony with views of Aegean.