Mykonos Town - Megali Ammos Beach



Number of rooms: 30 suites
Rate range: From €340 EUR (per room per night)
Owned/Managed by: Bill & Coo
Clientele: Very Gay Friendly











Enter a World of luxury and discover The Best Boutique Hotel in Mykonos Island. Bill & Coo, a luxurious gay friendly hotel complex of 30 suites, near Mykonos Town, above its closest beach, Megali Ammos, with Baos island and the well-known Aegean Sea magic spread out in front of you.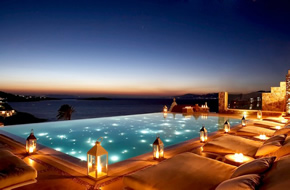 The hotel's name reminds of a couple, but its etymology has its roots in the English language: the phrase "BILL & COO" refers to the characteristic sounds emitted by pigeons when they make love, playing with their bills to show their love. It can be said that Bill & Coo has been built here to bring you closer to your other half.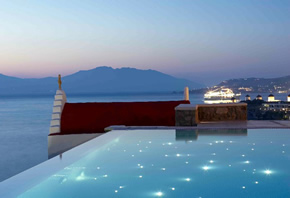 The scenery is more than ideal and you can enjoy the most beautiful sunset from your veranda; a lot of attention has been given to even the smallest detail so that the hotel can conquer the top of the class of boutique hotels where it really belongs! At Bill & Coo they believe it's simple: when you love something you do your best, you offer your soul; and this you have the opportunity to verify during every moment you will spend in this new small paradise.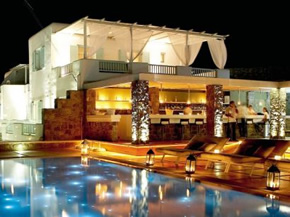 Bill and Coo, one of the most cosmopolitan design hotels in Mykonos, offers supremely luxurious and contemporary facilities that will delightfully surprise and inspire you.
Facilities & Services
• Water's Edge Outdoor Swimming Pool • 24 hours room service • Laundry & express dry cleaning service • Internet corner with 24 hours internet access • Private Parking • CD & DVD Library • Non-smoking rooms • Roundrip transfers to Mykonos Port or Airport • Express check-in/out • Concierge & Guest Relations desk • In Suite Dining • Welcome drink upon arrival • Bell boy service • Turn down service.
Lounge Bar
Bill & Coo Boutique Hotel Pool Bar is a perfect relaxing point to unwind under the sun enjoying one of our exceptional cocktails served by our charming and experienced staff. Our originally designed swimming pool along with our various relaxing points and of course our immediate Sea and Town view, allows you to feel the energy for which Mykonos is famous. Carefully chosen music creates an ideal atmosphere for socialising on an international level and witnessing the new arrivals to the island Mykonos.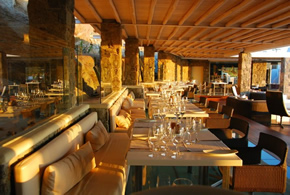 Food & Wine
Bill & Coo beautifully furnished gourmet restaurant offers excellent cuisine with the usage of pure ecological products, most of which are produced in our farm in Mykonos. With emphasis in high quality, talent and originality our chef creates a magnificent synthesis of dishes full of colour and exceptional taste. Bill & Coo restaurant portrays warm and friendly service in a high quality boutique hotel manner.

It is always a unique dining experience at Bill & Coo restaurant with such a seducing view of the Aegean in elagant surroundings.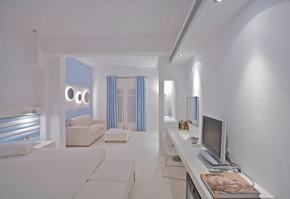 Bachelor Suites
Treat yourself to the luxury of simplicity as you unwind in the cozy and elegant environment of the Bachelor Suite of this dazzling design Mykonos hotel. Covering an area of 38 m2 this one-bedroom suite features a king size bed and lounging area for moments of tranquil repose.
Honeymoon Deluxe Suites
An elegant Mykonian setting and romantic escape, the Honeymoon Suite is a world class destination for a honeymoon couple, whether your style is active, relaxed or a little bit of both. Covering 43 sq. meters, the Suite features a grand terrace with outdoor Jacuzzi and lounge area offering endless hours of relaxation and romance.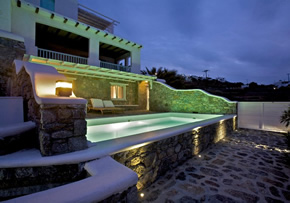 Superior Suites
Supremely comfortable, and equipped with every luxury, the 60 sq. meter two bedroom, Superior Suites ensure moments of pure relaxation. Exuding the comfort and ambience of a Mykonian home, these Suites are enveloped in a fusion of contemporary luxury and phenomenal panoramic sea view. The idyllic retreats for friends or couples, comfortably sleeping 4 guests.
Bill & Coo Suites
Revel in the astonishing, newly renovated Bill & Coo Suite of this fine luxury Mykonos hotel designed to soothe and spoil its guests. The design breathes a new air of Mykonian luxury; it is at once authentic, cultured and contemporary in appearance, presenting a rejuvenated sense of place for Bill & Coo. Covering 70m2 of private luxury & style, this brilliantly appointed suite with the dazzling infinity pool, may be heated for the months of April ,May and October, and veranda offers the pleasures of indulgence in a setting made of dreams.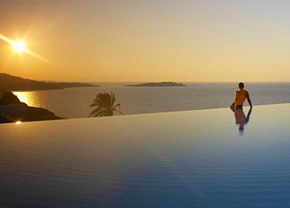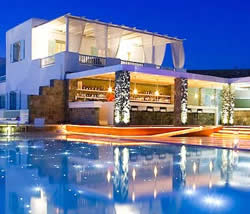 Location: Megali Ammos Beach, about 600 m from Mykonos Town: a comfortable walk along the coast. 150m from the beach.

Hotel facilities: Water's Edge Outdoor Swimming Pool, 24 hours room service, Laundry & express dry cleaning service, Internet corner with 24 hours internet access, Private Parking, CD & DVD Library , Non-smoking rooms, In Suite Dining, Bell boy service, Turn down service...

Room facilities: Stylish contemporary design with tasteful new colours and materials used: Airy, with lots of light, plus spacious terrace facing Aegean Sea & romantic sunset : Air-conditioning, satellite plasma TV, direct dial telephone & voice mail, high speed internet access, radio & music, CD & DVD player, electronic safe, contemporary bathroom with hydro-massage jet shower, hairdryer, bathrobes & slippers, luxury toiletries, wardrobe/closets, private entrance at back of building. Fresh fruits & bottle of water.