Mykonos - Agios Ioannis Beach



Number of rooms: 36 rooms / 4 suites
Rate range: From €200 EUR (per room per night)
Owned/Managed by: Apollonia Resort
Clientele: Gay Friendly









The top quality gay friendly Apollonia Resort is located just 100 metres from Ahios Ioannis beach, about 30 metres from where soppy 80's brit-flick Shirley Valentine was filmed and about four kilometres from Mykonos Town. With just 40 air conditioned rooms, this delightful property is perfect for couples seeking out a high quality environment with easy access to the main town.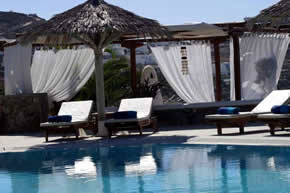 There's a regular bus service into Mykonos Town with the journey taking about 20 minutes and costing less than two Euros, but for something really special closer to home, do try to tackle the short, five minute walk down to Kapari, one of the island's most beautiful, unspoilt and romantic beaches.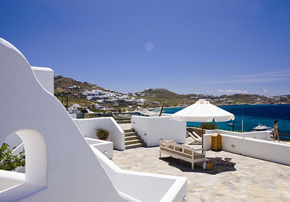 Each room comes equipped with an ensuite bathroom, satellite TV, a CD and DVD player, a mini bar, a phone and an internet access phone point, and every one has phenomenal views out to sea towards the island of Delos. Maid service is daily.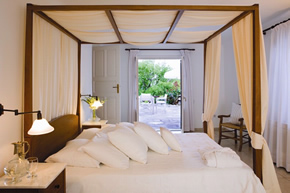 The Apollonia Bay is extremely chic, with excellent but not at all stuffy service. It's this combination of high class style and modern informality which many - including quite a few celebs - find especially alluring.
The property's general facilities are fairly extensive and include full reception facilities, a lobby bar, another bar, a coffee shop, a snack bar, a Mediterranean restaurant, a breakfast room (breakfast's included in your holiday price, by the way), a freshwater swimming pool, a pool bar, a fully equipped gym, a sauna and a Jacuzzi.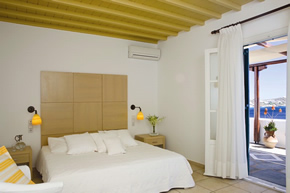 Some services need to be paid for locally as you use them, and that includes something called holistic therapy. Sounds ever so nice and relaxing, but please don't ask us for any more details as we've got no idea what it actually means. We do know what aromatherapy, massage and facials are, though, and you can treat yourself to these as well.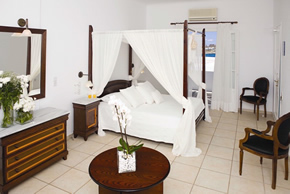 Clearly, the Apollonia Bay is designed for a very special holiday and, with demand from all over the world, you do need to book reasonably early.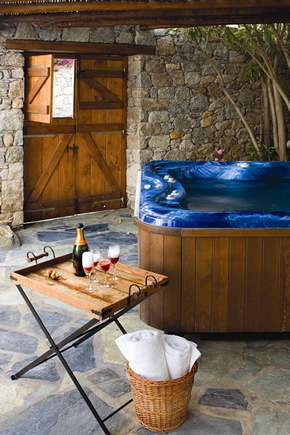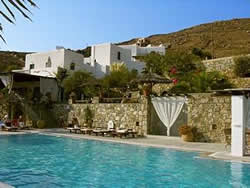 Location: Unique position, breathtaking view over Aegean Sea till Delos Island: hotel faces little church and quay at Agios Ioannis Beach, about 4 km from Mykonos Town & airport, 5 km from harbour.

Hotel facilities: Reception, lobby bar, main bar, coffee shop, snack bar, Mediterranean cuisine "Kynthos" all –day restaurant, breakfast room, buffet breakfast, Pergola grill & barbecue restaurant, outdoor sea-water swimming pool & wooden deck chairs, "Moby" pool bar, YDNA mini-SPA facilities: fitness center: fully-equipped gym, sauna bath, steam room, Jacuzzi and Holistic therapy, aromatherapy, facials & body massage, large living room & TV lounge, reading room (library), safe boxes, internet cafe, free parking.

Room facilities: Spacious, traditionally furnished with: individually controlled air-conditioning, remote control satellite colour TV (incl.house free VHS movies), music, in-house video, hi-fi stereo, CD player, DVD system, mini-bar, direct-dial telephone, internet ( + wireless & voicemail) & fax access, in-room safe, bathroom with bath, hairdryer, luxury bath cosmetics, breathtaking sea-view balcony or veranda with view to Delos. Special canopy-bed honeymoon rooms available. Rooms for non-smokers. Mini-suites & suites offer individual PC devices.