Mykonos Town - Rohari



Number of rooms: 60 rooms & 1 suite
Rate range: From €60 EUR (per room per night)
Owned/Managed by: Kousathanas family
Clientele: Gay Friendly








The gay friendly Rochari Hotel, where every guest is special and you are welcome as part of the Kousathanas family. Kousathanas family have been attending to our guests for more than 30 years with a personal touch and our own brand of hospitality.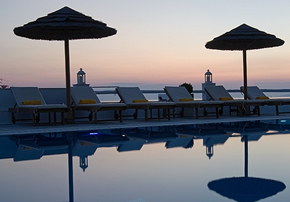 The gay friendly Rochari Hotel, built in traditional Mykonian-style architecture, is owned and operated by family. Rochari rooms offer comfort at a reasonable rate, many with panoramic sea views and large terraces. In a very convenient location, our hotel is just a few minutes' walk to public buses and the town center and also have private, off-street parking. Rochari offers a dining room/bar and a swimming pool/bar with terraces and stunning views of Mykonos and the sea, along with many other amenities. Dine on the terrace above the pool and delight in the home-cooking from our kitchen prepared with ingredients lovingly grown on the family farm.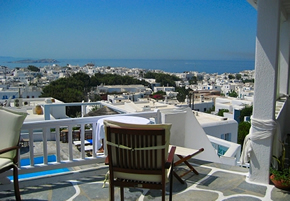 The Rochari Hotel provides a friendly, relaxed atmosphere with traditional Mykonian charm. We try to anticipate your needs and provide for your holiday comforts. We offer:
• 24-hour front desk
• fax service
• direct dial in-room telephones
• air conditioning
• in-room mini fridges and cable television
• in-room safety deposit boxes
• in-room hair dryers
• maid service
• room service
• laundry service and dry cleaning
• swimming pool - open 7:00 am till 1:00 am
• pool bar - open 13:00 till 22:00
• off-street parking
• emergency on-call doctor
• front desk concierge services: travel confirmation, taxi arrangements, car - motorbike rental arrangements, restaurant reservations private parties: weddings, birthdays, theme parties - complete arrangements: facilities, food & beverage - consultation on special requests
• airport/boat port - arrival and departure - complimentary hotel bus service
• dining room - breakfast buffet from 8:00am 13:00 /menu fare and daily specials served all day till 1:00 am
• dining room bar - 7:30 am - 1:00 am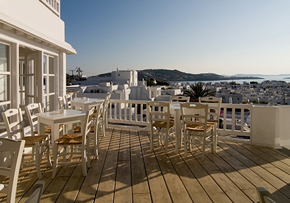 The Rochari Hotel offers several accommodation options to suit your needs.
Single rooms have one double bed and a garden view.
Double rooms are bigger than a single room and have either one double bed or two single beds and are ideal for couples or friends. All double rooms have a terrace or a balcony, most with a sea view and some with a garden view.
Triple rooms have either three single beds; one double bed plus two single beds; or one double bed plus one single bed. Most triple rooms have a garden view and are ideal for friends or families.
The suite is perfect for a honeymoon couple or can sleep up to five people. Complete with two large balconies, the suite has a bedroom, a sitting room and a large bathroom with a bathtub. In the bedroom there is one double bed and the sitting room has couches that convert into one double bed and one single bed.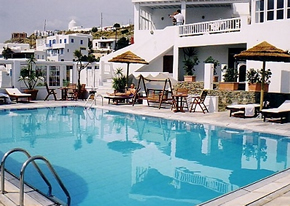 Spend the day lounging by the pool, then join us for sunset drinks from one of our bars and enjoy lingering into the twilight hours. The Rochari Hotel is a place for reuniting old friendships and creating new ones. Many of our guests return to us year after year and there is usually a familiar face or a warm smile to greet you at some point during your day, even the breakfast room can be a social occasion. We strive to accommodate your holiday needs and to make your stay as comfortable as possible.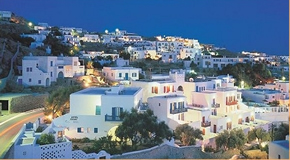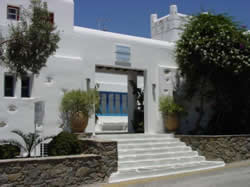 Location: Rohari area, Mykonos Town. 1 km from harbour, 4 km from airport. Unique location, only 5min. walk to down town.

Hotel facilities: Lovely swimming pool with pool-deck and wooden deck chairs, a busy pool bar and terrace, snack bar for light meals (fresh products from the island), breakfast room, central heating, veranda hours reception, a small conference hall, parking, room service, laundry, fax facilities.

Room facilities: Private facilities, A/C, direct dial Telephone, colour cable TV, Music. Mini fridge, hairdryer, in-room safe.