Mykonos Town - Tagoo



Number of rooms: 19 rooms
Rate range: From €72 EUR (per room per night)
Owned/Managed by: Gorgona Hotel
Clientele: Very Gay Friendly









The gay friendly Gorgona Hotel is located in the region of Tagoo, at close proximity to Mykonos Town. The hotel is built in the traditional architectural style of the island and offers its guests the advantage of staying in a peaceful environment, close to the hustle and bustle of the capital town with one of the most magnificent views. It is this advantageous location that make Gorgona Hotel one of the best Mykonos hotels.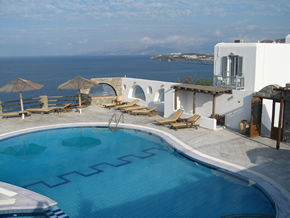 First up - and to a lot of people this is the most important factor of all - there's owner Joanna and her family, whose warmth and geniality immediately put guests at their ease and set the tone for the whole holiday. Always there with a ready smile and a friendly greeting, Joanna will treat you more as a friend than as a paying guests, and it's that kind of attitude (ie no attitude) which we and our customers really do appreciate.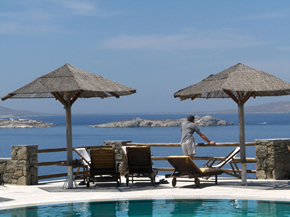 You'll also appreciate the hotel's location - about 700 metres from the centre of town - and, while nowhere around Mykonos Town can be said to be incline-free, you'll notice that the area is far less hilly than several other parts of town.
The Gorgona Hotel in Mykonos Town, which was fully-renovated in 2009, is comprised of 19 stylishly-designed single, double and triple rooms for rent that are ideal for those who want to relax and enjoy themselves during their holiday in Mykonos.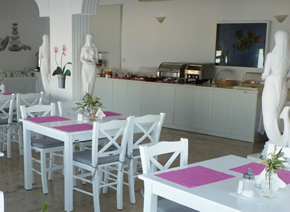 The hotel provides quality services and excellent facilities, such as a swimming pool with an outdoor hydro massage, and Wi-Fi internet access, which offer a pleasant and relaxing stay, making your vacations on Mykonos Island absolutely unforgettable.
If any single criticism can be levelled at the Gorgona, it would be that the rooms are rather on the small and basic side, so if you stay in a lot and appreciate having a lot of space, then this may not be the hotel for you. Don't get us wrong, the size is perfectly adequate (how many times have we heard that before?!) and there's plenty of room for either a double or twin beds and all the necessary furniture.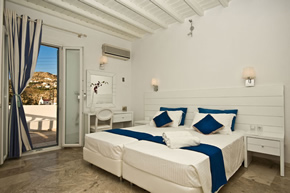 Every room is air conditioned with an ensuite bathroom, and comes equipped with a safety deposit box (free of charge, no less), a fridge, a television, a radio and a balcony or terrace.
We can't mention your balcony without mentioning the view you'll get from it, which is considered by many to be one of the best in Mykonos., overlooking the gleaming white of the town and stretching out over the clear blue Mediterranean.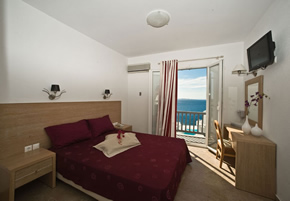 You'll also be able to take in this magnificent vista from the Gorgona's beautiful pool area: large pool, a Jacuzzi, a friendly bar, free sunbeds and parasols and extensive sun terraces…absolutely wonderful!
Breakfast is taken in the bright breakfast room (again with great views) while the poolside bar serves snacks during the day. Maids will clean your room every day, they'll replace your towels four times a week and change your bedlinen three times a week.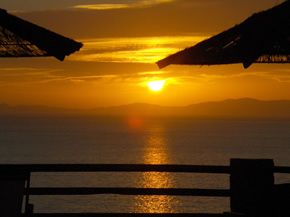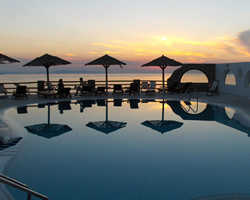 Location: Tagoo district, easy walk only 900 m from Mykonos Town & 150m from nearest tiny Tourlos beach. Hill-top hotel, panoramic unrestricted views to Mykonos Town, new harbour in Tourlos & facing Aegean Sea and sunset.

Hotel facilities: Small hotel building of Cycladic style architecture. Bar and breakfast room, terrace with snack bar, TV room, transfer service (small charge). Swimming pool, poolside bar, safe-deposit.

Room facilities: Island style furnishings, private facilities with shower/WC, A/C, colour TV, music, direct dial telephone, radio, safe, balcony or patio with sea and sunset views. Wake-up service. Daily maid service. Parking.