Welcome to Fort Lauderdale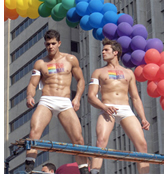 If it isn't the sunny weather or sandy beaches drawing gay tourists to Fort Lauderdale, it must be the astounding number of gay bed & breakfasts, bars, and restaurants. It seems like everybody's flocking to this part of South Florida to take advantage of the ideal weather, beautiful attractions and easy lifestyle.
The city has quickly evolved into one of America's premier gay resorts, and it's no wonder. Fort Lauderdale has always been cherished by beach-goers who want to avoid the pretension and extravagance of other fun-in-the-sun destinations. Best of all, Ft. Lauderdale is affordable while offering plenty of eye candy. In nearby Wilton Manors, a suburb of Fort Lauderdale, you'll find a concentration of fun gay shops and some of the city's most popular nightlife.
Fort Lauderdale is a big stop for International tourists and a number of major events. Depending on who's in town the atmosphere can be frenetic or chill. Find out what's on the calendar.
Relaxed. Refined. Refreshing.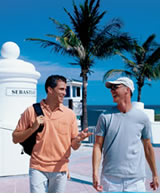 Your next getaway can be as awe-inspiring as miles of blue waterways, as inviting as soft golden sands and as soothing as gentle ocean breezes. If your next getaway is in Greater Fort Lauderdale, that is.
Take a glance at our diverse hotels, arts and entertainment on Hollywood Beach and at Downtown Riverwalk, diving from Deerfield to Hallandale Beach, a world of golf and more. The more you do, the more you'll marvel. Feel the caress of nature at Butterfly World or get your heart pounding with thoroughbred racing at Gulfstream Park. Plan a spa day or a day cruise. And area museums invite you to explore acclaimed art, culture, science and history exhibits. Meanwhile world-class entertainment and gaming are well within reach.
Every visit is a fresh taste of paradise, from the Blue Wave beaches to the yacht-filled waterways to the exotic Everglades. Enjoy a welcome change of pace in Greater Fort Lauderdale.
Go luxe. Go fab. Go all OUT in Greater Fort Lauderdale.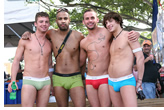 For years, Fort Lauderdale has been known as a popular gay and lesbian destination. In addition to being gay friendly, Gay Fort Lauderdale has more than 150 gay-owned establishments including hotels/guesthouses, bars, clubs and restaurants, plus the second largest Metropolitan Community Church congregation in the United States and three gay and lesbian publications. Gay Ft. Lauderdale has three popular gay beach areas on Fort Lauderdale's 23 miles of wide, sandy beach.
Gay Fort Lauderdale Restaurants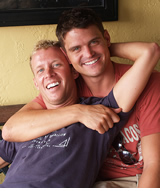 Gay travelers to Ft. Lauderdale will be treated to a plethora of fantastic Ft. Lauderdale Restaurants. Local Fort Lauderdale specialties include: The Freshest Seafood, Including Stone Crab Claws, Mahi Mahi, Florida Grouper, Gulf Shrimp, Conch, Tilapia, Shark & More! Many Dishes Use Fresh, Florida Tropical Fruits - Mango, Papaya, Coconut, Oranges, Limes, Lemons, Pineapples, & Grapefruits. Dessert Is Not Complete Without A Piece Of Key Lime Pie!
Gay Fort Lauderdale Shopping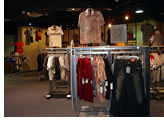 Fort Lauderdale is a shopping haven for the gay traveler. Fort Lauderdale features world-class shopping with designer outlets and specialty stores for the gay traveler. Visit Fort Lauderdale's many malls, flea markets, outlet malls and unique boutiques.
Gay Fort Lauderdale Bars & Nightlife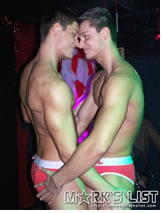 Gay Ft. Lauderdale gay bars, gay Ft. Lauderdale nightlife, gay club, lesbian hangouts -the nightlife in Fort Lauderdale offers alot of options for the gay and lesbian traveler. Nightlife includes big dance clubs, video bars, a popular lesbian disco, piano cabarets, sports bars and a few strip joints. Ft. Lauderdale also offers some of the most popular leather bars in Florida. In addition, you will find quite a few neighborhood bars if you are looking for something a bit more quiet. The Wilton Manors section of Fort Lauderdale draws an older middle aged crowd. the young tend to flock to the nightclubs. Women are welcomes at most of the men's places.
Attire is casual. And, you will need a car to get around since most of the bars are spread out. For those wanting to see how the rich and famous live, South Beach is only an hour away.
Gay Fort Lauderdale Beaches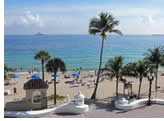 Warm your toes in the golden sands of Greater Fort Lauderdale's 23 miles of sun-kissed beaches. Stroll, jog, or rollerblade along Fort Lauderdale's palm tree fringed, brick-lined beachfront promenade. Pass by the world famous Elbo Room, site of the 1960's "Where the Boys Are" movie starring George Hamilton and Connie Francis.
Relax on Hollywood Beach, known for its casual atmosphere and free entertainment. Bicycle, run or walk along Hollywood's 2 1/2 mile oceanfront Broadwalk which parallels the beach.
Enjoy Pompano Beach's three-and-a-half mile beach, a favorite spot for families featuring playgrounds on the beach, fine seafood, and family style festivities. Named after the saltwater fish abundantly found in the warm Atlantic waters, Pompano is home to an annual Pompano Seafood festival and Fishing Rodeo.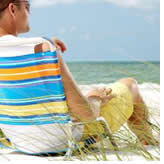 Enjoy the sunrise on beautiful Deerfield Beach, Broward County's award-winning, cove-like beaches and home of the Power Boat races each summer.
In the charming, half a square mile seaside village of Lauderdale-By-The-Sea, you'll find a popular fishing pier where pelicans fly overhead. Dive and snorkel from shore along the three-tiered reef system.
Celebrating 100 years, Dania Beach is home to the Dania Beach Fishing Pier, 30 marinas and John U. Lloyd State Park
Gay Fort Lauderdale has four popular gay beaches. The Ft. Lauderdale gay beaches include: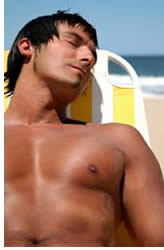 Sebastian Street & A1A
Located between Sunrise Boulevard and Las Olas Boulevard.
Terramar Street & A1A
Located three traffic lights south of Sunrise Boulevard. This is the place where all the tourists staying at the gay resorts tend to go.
NE 18th & A1A A beach popular with the locals. Out and About recommends this as a nice cruisy beach.
John Lloyd State Park (Dania)
US1 to Dania Beach Boulevard. There is an entry fee.
Haulover Beach
A clothing-optional beach is located at Haulover Beach four miles south of Hallendale.
Let's Get Naked!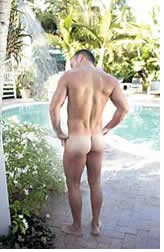 Fort Lauderdale offers many opportunities for you to shed those shirts and shorts and enjoy the sun on your entire body. And remember... getting naked is your OPTION and not necessarily a sexual thing.
Naked, Nude, Clothing Optional...whatever you call it, it's not only about shedding your shorts but the confines, restrictions and definitions that go along with our clothing. It makes us all more equal and, hopefully, more accepting of each other. And it's fun, relaxing and a great way to meet people!
In the Fort Lauderdale area, we are fortunate to have many opportunities to get naked..... thanks mainly to year-round summer warmth. Here are some of your options:
Gay Guest Houses, Resorts and Hotels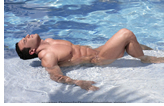 Almost all of our gay guest houses and resorts are clothing optional (meaning that it's your choice to participate... or not... in that option) or provide areas where you can be naked. So come swim, sun, socialize and even get a massage in the nude at one of Fort Lauderdale's gay lodging spots!
Nude Gay Beach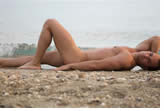 South Florida has one of the largest OFFICIAL AND LEGAL nude beaches to be found anywhere - Haulover Beach. This is where you'll find the guys and gals that like to get naked, sun in the sand and frolic in the surf. Even though it's about 30 minutes south of Ft. Lauderdale, this is a very popular spot for locals and visitors who want to work on their all over tan in the sand. Haulover is one of the largest sanctioned clothing optional beaches in the SU - and the only one of two that I'm aware of in the State of Florida. And NO, there's no nude beach in Key West.
Saunas & Bath Houses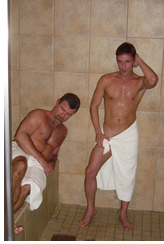 Yes, nudity can be sexual, too. We have two gay bath houses where you can get naked and play. Several factors have led to the popularity of the baths here in Fort Lauderdale.
First, a couple of years ago, the police cracked down on all the illegal public sex that was happening in the back rooms of local bars. It was easy, cheap and you could have a cocktail along with your..... But it was and still is illegal so they are watching every park and restroom in the area - consider yourself warned!
Secondly, the gay guest houses and resorts are very nice places to stay but they do not have the atmosphere of a back room or a bath house.... and most owners don't promote that kind of thing on property during the day. At night, when it's a little more discreet and fewer guests may be around, anything goes!
So what's a horny guy to do in the afternoon? Go to the Bath House!
The Club Fort Lauderdale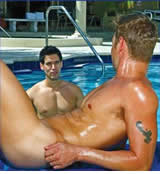 If this place had better beds, it would probably run some of the guest houses out of business. This is quite a facility. Huge gym, huge outdoor pool and deck area, steam room, dry sauna and a glass enclosed shower room. There are plenty of lockers and "changing rooms." The entire facility is kept very clean.
The one thing you may encounter here is a little attitude. This is where the younger guys with bodies that make you ask "why are you here?" come. But I've always experienced a mix of ages and body types....something for everyone!
Clubhouse II


The Clubhouse is a fun place that reminds me of the sex clubs I used to go to up in Washington DC, except this one smells better. This is a smaller facility and has no outdoor areas that I can find. There are many small rooms and a fair number of lockers. If you hit it at the wrong time, they can be sold out of both and you may have to wait.
The guys that go here, in general, are a little older. But these are real men. There's NO attitude here. Lots of opportunity to play and to watch. Clubhouse has Leather Night on Tuesdays and is within walking distance from a couple of the gay guest houses.
Sex Clubs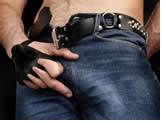 Just within the last year, two sex clubs have opened in Fort Lauderdale, but one has now closed. What's the difference between a sex club and a bath house? Typically... in a bath house, the norm is for everyone to be naked with a towel. In a sex club, it is not unusualy to see guys fully or partially clothed - or totally naked. And, as the name implies, sex clubs are great places for cruising for sex!
Slammer Club


Huge playspace filled with slings, cubicles, suck ramps and other nooks and crannies to play in. Also features a live DJ in the cage every Friday and Saturday night, and you can bring your own booze! Always packed, especially on weekends.
Fort Lauderdale Travel Tips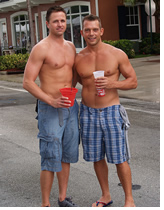 • Take a boat. You don't need a friend with a luxury yacht to enjoy Fort Lauderdale's waterways—water taxis are plentiful. Just avoid the more crowded 70-passenger "water buses."
• Choose your favorite gay beach. Fort Lauderdale has not one but three popular gay spots: Sebastian Street is the most well-known and likely the busiest; Terramar is close to many of the gay guesthouses; and N.E. 18th Street is a quieter, residential section at the north end just before buildings resume on the sandy side of A1A.
• Get a free Rainbow Vacation Planner from the tourism board. Fort Lauderdale really goes out of its way to attract LGBT travelers.
Fort Lauderdale Gay Accommodation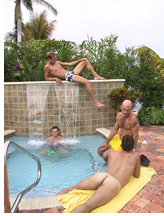 Gay Fort Lauderdale offers an assortment of accommodations for the discerning gay and lesbian traveler. Whether you are searching for large all-welcoming, gay friendly hotels or intimate gay guesthouses, gay Fort Lauderdale provides the perfect accommodations for all tastes. Leave your cares and your formal clothes behind. Gorgeous gay only guesthouses and intimate inns provide an array of choices for the gay traveler seeking the ultimate in charm and privacy. Get closer to nature and a perfect tan at one of several clothing optional Superior Small Lodging properties or pamper yourself with a getaway to one of the area's spectacular hotels or resorts.