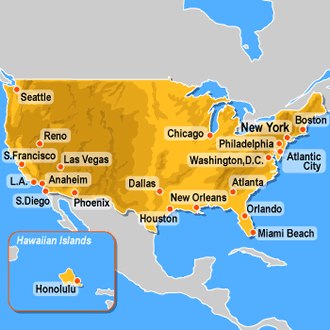 Choose where to go
The 10 main gay cities in United States
Palm Springs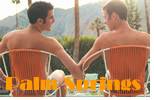 Palm Springs is a popular desert oasis that proudly boasts a warm and sunny climate and its casual, desert lifestyle including one of the largest gay communities in the USA. Gay Palm Springs has been referred to by many as a new Gay Mecca. The city boasts a very large and diverse Gay resident population and has become a prime travel destination. So visit us in Palm Springs and see for yourself what everyone is talking about!

Fort Lauderdale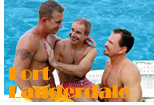 Fort Lauderdale is tropical paradise for gay city dwellers. The city offers gay beaches, naked beaches, sultry swimming pools at exclusively gay resorts, and gay bars and clubs that cater to everyone from bears to someone looking for a quiet lounge atmosphere. One of America's premier gay resorts, and it's no wonder. Fort Lauderdale has always been cherished by beach-goers who want to avoid the pretension and extravagance of other fun-in-the-sun destinations.

Miami Beach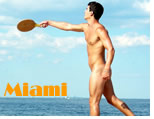 Its beautiful beaches, Caribbean climate, and non-stop nightlife have for years been the city's recipe for satisfaction, and its wealth of attractions catered to the LGBT community has made Miami a top destination. Miami has a well-deserved reputation as a premier travel destination. Famous for its vibrant and exotic clubs, bars and clientele, the nightlife here is beyond comparison. Venues regularly promote theme nights and live shows, not to mention it's a regular stop on the party circuit.

Key West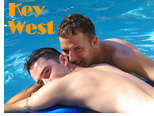 A long standing gay destination as well as an historic and culture rich town, Key West was the first American city to actively and openly recruit gay tourists. Points of interest include the former home of Ernest Hemingway, now open to the public as a museum and populated by descendants of his famous polydactyl cats. Duval Street is the epicenter of gay nightlife, culture and community, home of the famous Bourbon Street Complex, and the PrideFest Parade each June.

San Francisco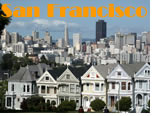 The "City by the Bay" is one of the world's most panoramic, open and vibrant, attracting millions of tourists each year. Gay San Francisco is absolutely integral to that well-deserved reputation, integrated into every aspect of the city's life, from nightlife to politics to fashion to construction. And gay life is hardly limited geographically to the Castro; you'll find gay people everywhere. Gay bars, restaurants and business are sprinkled through many of the city's neighborhoods.

Las Vegas

For a city that bills it self as the nation's adult playground, Las Vegas' gay scene has a surprisingly small town feel. There are a number of fun gay bars and clubs here for all types. While bars are sprinkled throughout the city there are mainly two groupings. The "fruit loop" on Paradise is basically a collection of three strip malls around gay bars, the Gipsy nightclub, and a bookstore. The Commercial Center off Sahara is a little more rough around the edges and houses two bathhouses and a collection of bars. Attached to Planet Hollywood Casino is Krave, the only gay club on the strip.

Los Angeles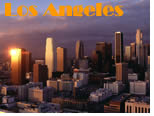 Some people hate it, but those who love Los Angeles - really love it. If you can handle the traffic, the tans and the "business," you can have a great time in LA's gay scene. A must for any gay traveler in the area is West Hollywood--an autonomous gay city right in the center of LA. With 40 percent of its citizens identifying as gay, WeHo is in fact gayest city in the country. LA boasts some other great gay 'hoods, from pockets of Silver Lake to more mixed and trendy Mt. Washington and Los Feliz.

Chicago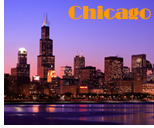 Chicago is the nation's third largest city and boasts a large gay community. Like New York or Atlanta in their regions, Chicago serves as the Midwest's cosmopolitan hub and attracts young and old alike--all looking to escape to the freedoms and opportunities of the big city. Gay life (and gay bars) in Chicago is mostly concentrated in two areas: Boystown (really "East Lakeview") and Andersonville which is farther up the city's north side.

New York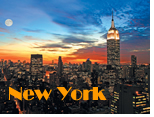 Rich with the history of Stonewall, a lively LGBT community and the fabulosity of being the city that never sleeps, New York is so full of options it can be overwhelming. Don't fret, it is not hard to plan the perfect queer-tinerary of the Big Apple. Seven days a week you can find what, and possibly who, you're after no matter where you hang out on the continuum. Gay culture has spread its wings throughout New York and the well-known gay areas such as Chelsea, Hell's Kitchen and The Village are no longer your only option. Venture over to the Upper West Side or Queens or Park Slope, Brooklyn and expand your options even further. After all, if you can make it there, you'll make it anywhere - it's up to you... you know the rest.

San Diego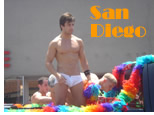 San Diego has a reputation as a socially conservative, military town. But look a little closer and you'll find gay people everywhere (many military or retired), out in the open, holding hands in almost every neighborhood. The crowd here is diverse, skews slightly younger and is warm and friendly (300 days of sunshine can make one that way). To navigate San Diego, you'll need a car (and a designated driver) as the hot spots aren't really in walking distance of each other, but there are clusters of the bars and clubs in Hillcrest, University Heights and North Park.

States, in alphabetical order
Alabama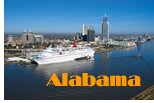 Alabama is a southern state that is bordered by Mississippi, Florida, Georgia, and Tennessee, and offers the gay community sweet home hospitality. While most southern states are traditionally conservative by nature, Alabama is a liberal state with a gay friendly atmosphere.
Main Gay Cities:
Montgomery, Auburn, Birmingham, Dothan, Gadsden, Gulf Shores, Mobile, Huntsville, Oxford, Tuscaloosa

Alaska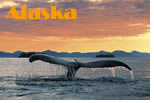 Alaska is unique among travel destinations. We have millions of acres of primeval wilderness, bountiful wildlife, and endless opportunities for adventure. The vast, untouched landscapes of Alaska are refreshing and cleanse the soul. Alaska is a state that is homey, comfortable, and very welcoming of the gay community.
Main Gay Cities:
Anchorage, Denali, Fairbanks, Gustavus, Homer, Juneau, Kenai, Ketchikan, Soldotna

Arizona

One of the Seven Wonders of the World exists here among our lush landscapes, crystal-clear water and breathtaking mountain peaks. From small communities to one of the fastest growing cities in North America, Arizona offers travelers amazing sights, adventure, and you will find many open arms and hearts to the GLBT community.
Main Gay Cities:
Flagstaff, Kingman, Lake Havasu City, Phoenix, Prescott, Tucson, Mesa, Sedona, Scottsdale, Yuma

Arkansas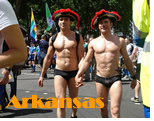 Arkansas is a state located in the southern region of the US. Arkansas shares a border with six states, with its eastern border largely defined by the Mississippi River. Its diverse geography ranges from the mountainous regions of the Ozarks and the Ouachita Mountains, which make up the U.S. Interior Highlands, to the eastern lowlands along the Mississippi River.
Main Gay Cities:
Little Rock, Eureka Springs, Fort Smith, Jonesboro, North Little Rock, Hot Springs, Batesville, Bentonville, Rogers, Fayetteville

California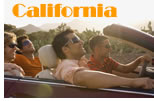 California is the most populous state in the United States, and the third largest by area. Perhaps no other place in the U.S. has been as closely associated with gay and lesbian culture as California. In fact, Lesbian, Gay, Bisexual and Transgender (LGBT) travelers named four California cities among the 15 gay friendliest destinations in the U.S.
Main Gay Cities:
San Francisco, Los Angeles, Palm Springs, San Diego, Anaheim, Berkeley, Beverly Hills, Cambria, Clear Lake, Inglewood, Eureka, Fresno, Hollywood, Laguna Beach, Lake Tahoe, Long Beach, Malibu, Modesto, Monterey, Napa Valley,Oakland, Russian River (Guerneville), Sacramento, Santa Barbara, Santa Cruz, San Jose, San Luis Obispo, Santa Monica, Sonoma, South Lake Tahoe, Venice, West Hollywood, Yosemite National Park.

Colorado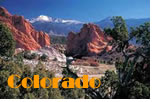 An annual average of 300 sunshine-filled days gives us our signature blue skies and makes Colorado a great getaway that delivers exhilarating adventure or well-deserved relaxation – but always amid spectacular natural beauty.
Main Gay Cities:
Denver, Colorado Springs, Aspen, Aurora, Beaver Creek, Fort Collins, Lakewood, Steamboat Springs, Telluride, Vail

Connecticut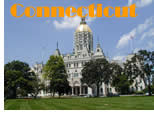 Connecticut, an easy drive from New York, New Jersey, Massachusetts, and eastern Pennsylvania for day and weekend trips, is the picturesque southern gateway to New England. The northwestern part of the Nutmeg State – the Litchfield Hills – is rich with rolling landscapes, dainty villages centered upon town greens, lots of hiking and bicycling trails, and many antique shops.
Main Gay Cities:
Hartford, Bridgeport, Danbury, Manchester, Milford, Mystic, New Haven, New London, Norfolk, Old Saybrook, Stamford

Delaware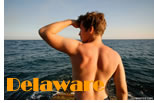 Delaware may be the second smallest state in the Union, but it is also very importantly known as the First State. To some, Delaware has been considered also one of the more conservative states in America, however, this does not prevent it from having one of the most thriving gay communities in North America.
Main Gay Cities:
Bethany Beach, Dover, Harrington, Lewes, Milford, Newark, New Castle, Rehoboth Beach, Seaford, Wilmington

District of Columbia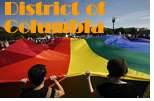 District of Columbia is the federal capital of the United States and home to the White House, Lincoln Memorial, Washington Monument and Smithsonian Institution. Washington, DC is, well, notorious. Politics, sex scandals and fiery protests have given this popular destination for and home to the gay community a bit of an edge.
Main Gay Cities:
Alexandria, Arlington, Capitol Hill, China Town, Cleveland Park, Downtown, Dupont Circle, Foggy Bottom, Georgetown, Washington

Florida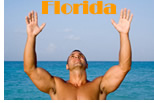 In fabulous Florida, you'll find warm weather and even warmer welcomes--with a healthy amount of sass on the side. Chat with cheeky divas in Miami, hobnob with fairy princesses in Orlando, or participate in a Key West dance-off. Warm weather and hundreds of miles of beaches attract about 60 million visitors to the state every year.
Main Gay Cities:
Fort Lauderdale, Miami, Key West, Wilton Manors, Amelia Island, Boca Raton, Bradenton, Cape Coral, Clearwater, Cocoa Beach, Dania Beach, Daytona Beach, Delray Beach, Florida Keys, Fort Myers, Gainesville, Hollywood, Islamorada, Jacksonville, Key Largo, Lake Buena Vista, Lakeland, Lake Worth, Madeira Beach, Miami Beach, Marathon, Melbourne, Naples, Oakland Park, Orlando, Palm Beach, Panama City, Pensacola, Pompano Beach, Port Charlotte, St. Augustine, St. Petersburg, Sarasota, Siesta Key, Tallahassee, Tampa, Treasure Island, West Palm Beach

Georgia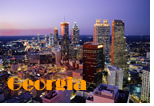 Georgia is a state located in the southeastern US. It's bordered with Florida and North Carolina and is a popular place to live and visit. Main Georgia gay scene are located in Atlanta and Augusta. Atlanta is the south's most metropolitan city. Over half of residents arrived from somewhere else.
Main Gay Cities:
Atlanta, Augusta, Brunswick, Cartersville, Dalton, Helen, Macon, Perry, Savannah, Valdosta

Hawaii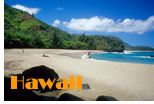 Hawaii awaits with serene beaches and some of the most gorgeous scenery in the US. Whether you're headed to the Big Island or the other appealing island destinations in the state, you will find gay life, gay beaches, gay bars and community among the lava rocks and grass skirts. There are gay bars to be found as well as gay tour guides to show you sites in that special way.
Main Gay Cities:
Captain Cook, Hakalau, Honolulu, Hilo, Kailua-Kona, Kamuela, Kapaa, Kauai, Koloa, Kona Coast, Lahaina, Maui, Lanai, Lihue, Molokai, Oahu, Paia, Princeville, Volcano, Waikoloa, Wailea

Idaho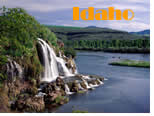 Idaho is a state in the Pacific Northwest region of the US. Idaho is landlocked mostly mountainous state. Central Idaho is home to one of North America's oldest ski resorts, Sun Valley. Snow sports are keystones of Idaho's identity, with a ski resort near almost every urban area. Whitewater rafting and kayaking are among the state's major pastimes.
Main Gay Cities:
Boise, Idaho Falls, Lewiston, Nampa, Pocatello, Post Falls, Rexburg, Sandpoint, Sun Valley, Tamarack, Twin Falls

Illinois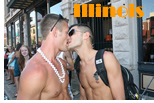 Illinois is the most demographically diverse state in America, and the fifth most populous in the nation. In fact, 1 in 4 Illinois residents are situated in the greater Chicago area. Chicago then being one of America's largest cities has a vibrant gay community and nightlife. Illinois is very gay friendly.
Main Gay Cities:
Chicago, Aurora, Bloomington, Champaign, Collinsville, Kankakee, Peoria, Quad Cities, Rockford, Springfield

Indiana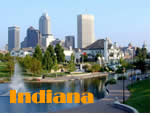 The State of Indiana is a Midwestern State that takes pride in its good old fashioned Mid Western warmth and appeal. The entire state has a population of about 6.3 million making it one of the most populated states in the country. Indiana is considered to be a haven for gay travelers and visitors as the residents here welcome everyone as one of their own. The nightlife is no exception and Indiana gay bars abound all across the state.
Main Gay Cities:
Indianapolis, Bloomington, Columbus,Fort Wayne, Evansville, Jeffersonville, Lafayette, Merrillville, South Bend, Terre Haute

Iowa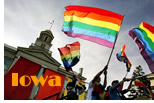 The state of Iowa is known as the Hawkeye state or the Tall Corn state and ranks 30th in population numbers in the US with a small population of about 3 million over the entire state. That is not to say however that if you are looking for Iowa gay scene that you will be disappointed, quite the contrary. Iowa may be known as a red state when it comes to voting and politics, but is has an extensive gay community in all of its major cities, making it very easy to find Iowa gay places anywhere you are in the state.
Main Gay Cities:
Des Moines, Ames, Cedar Rapids, Clinton, Council Bluffs, Davenport, Dubuque, Iowa City, Marshalltown, Sioux City

Kansas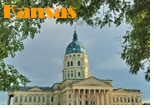 The wide open spaces in Kansas are one of the many elements that make this state America's 'Heartland' and it is this down home country feel that leads to a relaxed atmosphere in Kansas. Kansas is home to as many as 6,000 ghost towns, and it is this old saloon flavor that adds to the appeal of Kansas gay clubs & bars.
Main Gay Cities:
Kansas City, Dodge City, Emporia, Hays, Hutchinson, Independence, Manhattan, Topeka, Overland Park, Wichita

Kentucky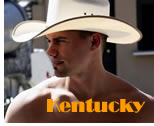 The motto of Kentucky is 'unbridled spirit' which means the gay community has a huge selection of Kentucky gay bars & clubs. Kentucky is also a state with a distinct cowboy flavor, and this magical state with gorgeous horses and greenery will be very appealing to the gay visitor. Kentucky is also home to the Kentucky Derby of course, and the gay traveler will delight in cowboy's paradise here.
Main Gay Cities:
Bowling Green, Covington, Elizabethtown, Florence, Frankfort, Hopkinsville, Lexington, Louisville, Owensboro, Paducah

Louisiana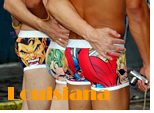 The State of Louisiana is one of the southern most states in America, and is often referred to in a grouping of states known as the Deep South. But with a population of almost 4.5 million, it is not difficult to find Louisiana gay scene. The mystique and charm that the Deep South is famous here, and prevalent throughout the entire state, and Louisiana gay places can be found from its capital city of Baton Rouge to its thriving party city of New Orleans.
Main Gay Cities:
New Orleans, Alexandria, Baton Rouge, Bossier City, Houma, Lafayette, Lake Charles, Monroe, Shreveport, Sulphur

Maine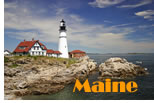 Maine may be one of the smallest states in the Union with only about 1.2 million in population, but it offers a thriving gay community and Maine gay scene that are unique in their own right. Located in Northeastern United States, Maine has been its own state since 1820 and offers an individual flavor you won't find in any other sate. Portland, Maine offers one of the most active gay and lesbian communities in the East Coast and as such provides an abundance of Maine gay clubs and bars.
Main Gay Cities:
Augusta, Bangor, Bar Harbor, Boothbay Harbor, Camden, Ellsworth, Millinocket, Northeast Harbor, Ogunquit, Portland

Maryland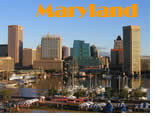 Maryland is one of the friendliest most unassuming states with a thriving gay community and a number of Maryland gay clubs. Maryland has been reborn over the last 15 years and offers an exciting nightlife, and abundance of activities for the gay traveler. Baltimore itself has become quite the cachet in terms of becoming a destination for gays and lesbians and is said to be more welcoming than any other city in the East. With this, comes a variety of gay and lesbian friendly businesses, as well as a huge selection of Maryland gay clubs.
Main Gay Cities:
Baltimore, Annapolis, Bethesda, College Park, Frederick, Gaithersburg, Hagerstown, Laurel, Ocean City, Salisbury

Massachusetts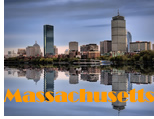 Massachusetts is one state that can boast to be the home of some of the most defining moments in American history. Its beautiful sea coast and stone walls that sheltered the 1775 Minutemen make it a favored travel spot for many Americans. As such, it offers a lot to the gay traveler, including a large selection of Massachusetts gay bars. While Massachusetts has a population of almost 6.4 million, most of those residents resides in the greater Boston area, the first city in the States to legalize same-sex marriage.
Main Gay Cities:
Boston, Cambridge, Lowell, Merrimack Valley, Northampton, Provincetown, Springfield, South Yarmouth, West Yarmouth, Worcester

Michigan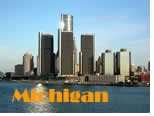 Michigan is one of the Great Lakes state, and is a state almost completely surrounded by water, being surrounded by four of the five Great Lakes. This makes Michigan an excellent beach state, however with many great cities, it is also very easy to find Michigan gay scene as well. From the smallest towns of Douglas to the largest city of Detroit, Michigan has something to offer anyone.
Main Gay Cities:
Detroit, Ann Arbor, Grand Rapids, Kalamazoo, Lansing, Saginaw, Saugatuck, Straits of Mackinac, Traverse City, Warren

Minnesota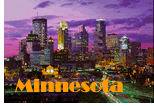 Minnesota is famous for its twin cities of Minneapolis and St. Paul, and it is in these cities where you will find the hottest and best Minnesota gay clubs & bars. Minnesota is a Midwestern state with over 5 million in population, and is proud for many reasons. One of those reasons is their thriving gay community which offers gay residents and visitors a huge selection of Minnesota gay places.
Main Gay Cities:
Minneapolis, Bloomington, Brainerd, Duluth, Mankato, Rochester, Roseville, St. Cloud, St. Paul, Worthington

Mississippi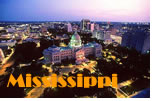 Mississippi is a state with a population of approximately 5 million people and is located in the area of the United States known as the Deep South. Mississippi is also a state that is traditionally 'red' in terms of politics and social culture, and as such, is not well known to be a state that is accepting of the gay lifestyle. However, finding Mississippi will be easier than you think.
Main Gay Cities:
Jackson, Biloxi, Gulfport, Greenville, Grenada, Hattiesburg, Meridian, Robinsonville, Tupelo, Vicksburg

Missouri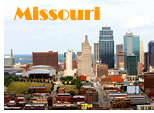 Missouri is a large state with a population base of 5.8 million and offers an exciting gay scene in its largest cities of Springfield, Columbia, Kansas City, and St. Louis. If you are looking for Missouri gay bars, these big cities in Missouri will serve as an excellent starting point.
Main Gay Cities:
Branson, Columbia, Farmington, Independence, Jefferson City, Joplin, Kansas City, Osage Beach, St. Louis, Springfield

Montana

Montana is typically known for being large and expansive with plenty of prairie land, however do not let that dismay you if you are looking for Montana gay scene. Montana gay bars are in abundance if you know where to look for them. The state of Montana is known as Big Sky Country, and Montana lives up to this nickname. Though no city in Montana has a population over one million people, this state still offers the gay traveler many Montana gay bars and a hot nightlife.
Main Gay Cities:
Big Sky, Billings, Bozeman, Butte, Great Falls, Helena, Kalispell, Missoula, West Yellowstone, Whitefish

Nebraska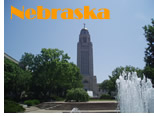 Nebraska is known as one of the Great Plains states and is located in the Midwestern United States with a population of approximately 1.7 million. Though Nebraska appears to be small, it offers many large cities with thriving gay communities. It is in these larger cities where you will find the best Nebraska gay bars & clubs. Cities like Omaha and Lincoln are key gay centers of Nebraska, and home to Nebraska gay scene.
Main Gay Cities:
Lincoln, Omaha, Beatrice, Bellevue, Fremont, Grand Island, Kearney, North Platte, Ogallala, Scottsbluff

Nevada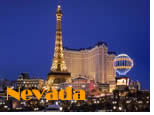 Nevada has a lot to offer to gay travellers. The largest city in Nevada is Las Vegas and the capital of Nevada is Carson City. The state's nickname is 'The Silver State' which is the result of the large number of silver deposits that were discovered and mined there. The state is very well known through the world for its easy divorce and marriage proceedings, legalized gambling and legalized brothels in a few counties.
Main Gay Cities:
Las Vegas, Boulder City, Carson City, Elko, Fallon, Henderson, Jackpot, Laughlin, Mesquite, Reno

New Hampshire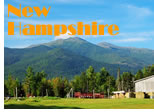 New Hampshire is a gorgeous New England state located in the northeastern section of the US. New England is a very liberal section of America with a thriving gay community and good gay scene. New Hampshire is small in size, but is home to a population of over 1.3 million. New Hampshire boasts an active gay community.
Main Gay Cities:
Concord, Laconia, Lebanon, Lincoln, Manchester, Nashua, North Conway, Plymouth, Portsmouth, Rochester

New Jersey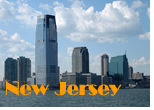 The state of New Jersey is located on the Eastern shore of the United States and is often referred to as simply Jersey. New Jersey gay bars & clubs are in abundance in this state, given that it is bordered by New York, Delaware, and Pennsylvania. Being a shore state, New Jersey gay scene attract visitors and travelers from any of its border states and have a lot to offer the gay community.
Main Gay Cities:
Atlantic City, Jersey City, Mount Laurel, Newark, Parsippany, Patterson, Somerset, Tinton Falls, Trenton, Wildwood

New Mexico

The state of New Mexico has much to offer the gay traveler no matter what you are looking for. When you are here you will not have problems finding New Mexico gay clubs & bars and a wealth of things to do. The biggest city of New Mexico is Albuquerque and is considered to be the gay mecca of New Mexico and it is here where you will find the most New Mexico gay scene.
Main Gay Cities:
Albuquerque, Clovis, Farmington, Gallup, Hobbs, Las Cruces, Rio Rancho, Ruidoso, Santa Fe, Taos Ski Valley

New York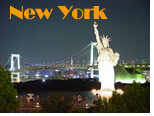 New York is a state in the Mid-Atlantic and Northeastern regions of the US and is the nation's third most populous. Gay culture has spread its wings throughout New York and the well-known gay areas such as Chelsea, Hell's Kitchen and The Village are no longer your only option. Venture over to the Upper West Side or Queens or Park Slope, Brooklyn and expand your options even further. After all, if you can make it there, you'll make it anywhere - it's up to you... you know the rest.
Main Gay Cities:
New York City, Albany, Auburn, Bath, Binghamton, Brooklyn, Buffalo, Cortland, East Elmhurst, Elmhurst, Elmira, Fire Island, Fishkill, Garden City, Ithaca, Jamaica, Lake George, Lake Placid, Long Island, Middletown, Newark, Newburgh, Niagara Falls, Plattsburgh, Poughkeepsie, Queensbury, Saratoga Springs, Suffern, The Hamptons, Rochester, Syracuse, Tarrytown, Utica, Watertown, White Plains, Wilmington, Yonkers

North Carolina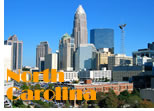 The state of North Carolina has a population of almost 10 million and is one of the most progressive states of the south. Here you will find a huge selection of North Carolina gay bars & clubs from this progressive and socially accepting southern state. Most of the gay community is centered in the Pink Triangle, home to many universities and a more socially acceptable atmosphere. In the Pink Triangle are Raleigh, Durham, and Chapel Hill, all of which boast a huge array of North Carolina gay places.
Main Gay Cities:
Asheville, Charlotte, Chapel Hill, Durham, Fayetteville, Greensboro, Raleigh, Rocky Mount, Wilmington, Winston-Salem

North Dakota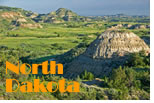 The residents of North Dakota are generally considered serious and conservative and this can cause some gay visitors and travelers to stay away. If you are considering visiting North Dakota, do not let its conservative nature steer you away. North Dakota is one of the smallest states, with a total population not even reaching 1 million, however, even though it is small in numbers, it is not lacking in warmth and friendliness towards the gay community.
Main Gay Cities:
Bismarck, Devils Lake, Dickinson, Fargo, Grand Forks, Jamestown, Mandan, Minot, Wahpeton, West Fargo

Ohio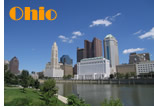 Ohio is another state of the Union that has earned a reputation for being overly intolerant of the gay and lesbian community. Even though Ohio is somewhat prudish, it still has an active gay community and a huge selection of Ohio gay bars & clubs. You will find the best Ohio gay scene in its largest cities of Columbus, Cincinnati, and Cleveland. However even though the gay scene may appear small in these large cities, the pride and active flavor of the community is still strong.
Main Gay Cities:
Akron, Cincinnati, Cleveland, Columbus, Dayton, Dublin, Lima, Mansfield, Toledo, Youngstown

Oklahoma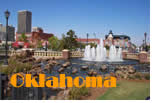 Oklahoma is a state located in the South Central region of the US. With small mountain ranges, prairie, and eastern forests, most of Oklahoma lies in the Great Plains and the U.S. Interior Highlands—a region especially prone to severe weather. Oklahoma City in the center of the state at the crossroads of three major highways, and is the hub of gay activity for the whole state and home to the state's largest gay population.
Main Gay Cities:
Oklahoma City, Bartlesville, Duncan, Elk City, Lawton, Mcalester, Muskogee, Norman, Stillwater, Tulsa

Oregon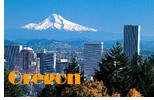 Oregon is a state that blends well with its counter-Western states in terms of offering an atmosphere that is liberal and socially accepting. You will enjoy the relaxed and warm feel that this classy state has to offer its gay travelers and visitors.
Main Gay Cities:
Portland, Beaverton, Bend, Eugene, Gresham, Klamath Falls, Medford, Pendleton, Salem, Springfield

Pennsylvania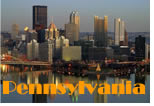 The state of Pennsylvania is one that is liberal, artistic, and socially conscious, and all of these elements will combine to ensure that you have a grand time when you are here. Pittsburgh, is perhaps where you will find the largest gay community and the largest selection of gay places. There is much to see and do when you are in Pennsylvania, whether you are exploring gay clubs, shopping, or experiencing the finest of Pennsylvania history and culture.
Main Gay Cities:
Philadelphia, Allentown, Erie, Gettysburg, Harrisburg, Hazleton, Lancaster, Pittsburgh, Scranton, State College

Rhode Island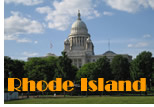 The State of Rhode Island and Providence Plantations, more commonly referred to as Rhode Island, is a state in the New England region of the US. It is the smallest US state by area. Providence is a small city in a small state, but its gay scene is as active as many of the larger east coast cities.
Main Gay Cities:
Providence, Coventry, Cranston, Newport, Pawtucket, Smithfield, South Kingstown, South County, Warwick, Westerly

South Carolina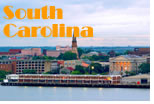 The glorious state of South Carolina is one that may not attract the gay traveler due to its rich history in Republican politics and its staunch conservative air. However South Carolina gay scene can be found here, and there is a thriving gay community that supports them. You will likely find biggest South Carolina gay scene in its largest cities of Charleston and Columbia.
Main Gay Cities:
Anderson, Beaufort, Charleston, Columbia, Florence, Greenville, Hilton Head, Myrtle Beach, North Charleston, Rock Hill

South Dakota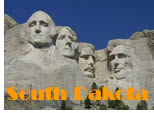 South Dakota is a state in the Midwestern region of the US and is known for its wild wild west lifestyle and its down home country appeal. Though densely populated, you will still find much to see and do here, and a huge selection of gay places to visit. You will find most gay scene in its largest cities of Pierre, the state capital, or in the lively and bustling Sioux Falls.
Main Gay Cities:
Aberdeen, Badlands National Park, Chamberlain, Deadwood, Hot Springs, Mount Rushmore, Pierre, Rapid City, Sioux Falls, Vermillion

Tennessee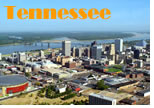 Tennessee is a southern state that has something to offer every traveler. The capital city of Nashville alone is worth a few days of travelling, and its metropolis is home to a population of over three million people. With a population that size, you have to know that Tennessee is home to a thriving gay community. Nashville, Memphis, and metropolitan areas where you will find the most Tennessee gay scene.
Main Gay Cities:
Chattanooga, Franklin, Gatlinburg, Jackson, Knoxville, Nashville, Memphis, Morristown, Murfreesboro, Pigeon Forge

Texas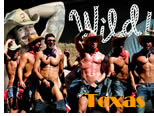 Texas may just be the most cosmopolitan state in the South, and this state blends both heritage and style in its old and new world combinations. Texas is home to some of America's largest cities such as Houston, Austin, and Dallas, and it is these huge cities where you will find the most Texas gay scene. Whether you are in Texas for business or pleasure, you will find something to do no matter where you go.
Main Gay Cities:
Austin, Amarillo, Corpus Christi, Dallas, El Paso, Fort Worth, Galveston, Houston, Lubbock, San Antonio

Utah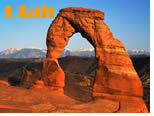 Utah, paradise for outdoor enthusiasts! From National Parks to ski resorts and golf courses, beautiful Park City to historic Temple Square, sunny St George to bustling Salt Lake City to tranquil Lake Powell, Utah will surprise you with its variety. Salt Lake City itself (unlike small town Utah) does not have a Mormon majority and seeks to broaden its appeal. There's a vibrant local gay community in Salt Lake City.
Main Gay Cities:
Salt Lake City, Cedar City, Layton, Logan, Moab, Ogden, Park City, Provo, Sandy, West Valley City

Vermont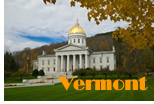 Romance happens in the Green Mountains! Far from the hectic pace of your daily life beckons a respite unlike any other. Imagine soul mates taking crisp moonlit walks together through lush forests, strolling along a stream, hunting antiques in buildings over 200 years old. For the discerning gay or lesbian couple the experience is magical. Vermont embraces and nurtures our relationships unlike any other state in the nation.
Main Gay Cities:
Bennington, Burlington, Brattleboro, Colchester, Killington, Ludlow, Montpelier, Putney, Rutland, Stowe

Virginia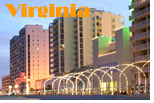 Virginia is a four-season destination offering the best of the mountains and the beaches. Unplug, unwind, and just be as you come together for fun and relaxation in Virginia. Virginia is nicknamed the "Old Dominion" and sometimes the "Mother of Presidents" because it is the birthplace of eight U.S. presidents.
Main Gay Cities:
Richmond, Chesapeake, Fredericksburg, Hampton, Herndon, Norfolk, Roanoke, Sterling, Virginia Beach, Williamsburg, Winchester

Washington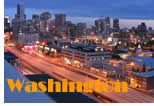 The west coast state of Washington is one of the more picturesque states in America, and one of the more beautiful places to visit. Washington state, named after the first President of the US, offers gorgeous mountain scenery, and crisp mountain air that will leave you feeling invigorated. Washington is also a very liberal state, and as such you will find yourself welcomed into a thriving gay community.
Main Gay Cities:
Seattle, Bellevue, Ellensburg, Kennewick, Kitsap Peninsula, Olympia, Spokane, Tacoma, Wenatchee, Yakima Valley

West Virginia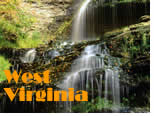 While you are traveling in West Virginia, you will have many choices when it comes to things to see and do. The state of West Virginia is nestled in the Appalachian Mountains and offers a beautiful mountainous charm that blends well with its southern hospitality. And though the state is southern, and is a little on the conservative side, this does not mean you will have problems locating West Virginia gay scene.
Main Gay Cities:
Charleston, Beckley, Bridgeport, Huntington, Martinsburg, Morgantown, Parkersburg, Princeton, Weston, Wheeling

Wisconsin

Wisconsin is a state located in the north central section of the US. Though you may have preconceptions about how boring, dull, and flat Wisconsin is, you will be surprised at how exciting Wisconsin can be. Wisconsin is a large state with its 6 million residents scattered all across it, and as such, you will biggest Wisconsin gay scene in its capital city of Madison, and its largest city of Milwaukee.
Main Gay Cities:
Appleton, Eau Claire, Green Bay, Kenosha, La Crosse, Madison, Milwaukee, Sheboygan, Stevens Point, Wisconsin Dells

Wyoming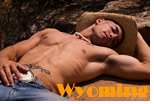 Wyoming is one of the largest states in the USA but has a very low population density but this does not mean that you will have a hard time finding Wyoming gay scene. In fact, the main attraction of Wyoming is its low population density, which makes for large open spaces and wilderness that few people will ever experience. And when it comes to wide open spaces and the cowboy lifestyle, the gay traveler will be entertained and intrigued.
Main Gay Cities:
Casper, Cheyenne, Evanston, Gillette, Jackson, Laramie, Rawlins, Rock Springs, Sheridan, Teton Village