Welcome to Torremolinos

Ever since the early 60s Torremolinos & the Costa del Sol has been a Mecca for gay and gay friendly people, its heady mix of sun, sea, wine and laid back lifestyle combined with a visiting population of artists, singers and writers all contributed in making the Costa del Sol the ideal congregational point in Southern Europe and Torremolinos has long been the gay focal point of the coast. Of course under Franco (so to speak) being gay was illegal, but that never seemed to stop anybody and indeed the locals actively protected the one or two gay bars in the area with tip offs from the police as to when a raid was likely to take place. Of course the clamp down on gay culture was all superficial. It brought 1000s of pesetas to the region every month. The rich, the famous and the infamous all flocked into Torremolinos for the Fun!!!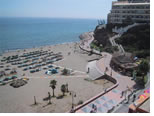 By the 70s gay life was well established here and the number of bars and restaurants continued to grow, and Not Marbella but Torremolinos was the "IN PLACE" to be and be seen, La Nogalera was built (allegedly by the son in law of a not unknown dictator) and the town of Torremolinos had over 2000 bars,clubs and restaurants and more cash going around than ever before. By the end of the 70s the developers had started to move into the Marbella end of the Costa and Poor old Torre was getting a bit of a bad reputation.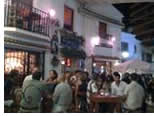 The Keeping up with the Jone's started to leave Torremolinos for the flash and glitzy new kid on the block "Marbella and Puerto Banus" . But the Gay visitors and residents continued to grow and make the town their capital city. By the 80s it was no longer against the law to be gay here and bars like Mens Bar, The Bronx, Tension etc all opened with their crusing areas and videos. However it was not too popular with the parents and grandparents of good old spanish Catholic Kids. But this only helped Torremolinos to grow as a gay centre because local gay people did not want to frequent GAY Venues in their own towns like, Malaga, Marbella etc just in case they bumped into their "father"!!!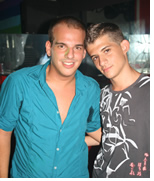 So every weekend the town of Torremolinos Exploded with 1000s and 1000s of Gay Spaniards joining the international gay community in town for Sun, Sea, San Miguel and Sex. Lots of it The 80s and early 90s were the hey days of Gay Torremolinos but by the end of the 90s the gay tourists started to desert the Old Lady for new more fashionable gay resorts all over Europe. Torremolinos sat back on its past success and just took the money and failed to reinvest, not realising there was a new, trendy upmarket gay quarter growing and investing in every corner of the world. By early 2000 many thought the resort was finished as a gay resort,,,, But now good old Torre is bouncing back New Gay Discos and Gay Bars all expensively refitted are amongs the best in Europe and at weekends the towns gay area around La Nogalera is Electric.... The Costa del Sol has it all - The best beaches, culture in Malaga, Mega clubs and great gay bars in Torremolinos, lots of gay crusing Costa del Sol areas. So watch this space Torremolinos is once again set to retake its No 1 place.
Torremolinos Gay Accommodation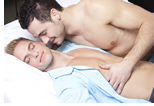 All of our featured Torremolinos accommodation is centrally located and just a couple of easy minutes walk from the gay bars in the La Nogalera area of the town, and the rest of the town centre.
The nearest clothed gay-friendly beach in Torremolinos is a 15 - 20 minute walk. The main gay & nudist beach is located 25kms away at the dunes of 'Cabopino', near Marbella.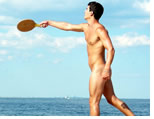 Having a car makes getting to this beach a reasonable daily option: with no car, it is possible to get there by using the local trains and buses, and you should allow at least an hour or so travelling time in each direction.The main 'gay' area is at the southern end of the beach and nude sunbathing continues up through the dunes towards the trees: crusing takes place in the dunes, in the wooded area and deep into the reed beds. There are plenty of parking spaces under the trees and these are also frequented by doggers.
We now additionally offer accommodation at the Vogue Beach Resort - the first gay FRONT LINE BEACH hotel in Spain. Which is a few minutes drive from Torremolinos, but there are no gay bars/etc within close distance.
How to get to Torremolinos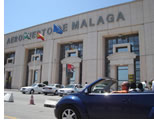 Torremolinos and the Costa del Sol has a year round season, but we suggest this resort is best saved for the hot, busy summer months only (May to late October).
By Air: Malaga Airport (AGP) is just 10 minutes drive from Torremolinos and served by all major European airlines and countless charters. All low cost airlines: EasyJet, Ryanair, Thomas Cook Airlines
, TUI Airways
, Lufthansa
and Transavia have daily services to major European hubs. Vueling
  & Iberia
provide low cost connections within continental Spain and islands.
Malaga airport has a train station with direct line to Torremolinos. Trains run half-hourly and the ride takes just 10 minutes. The train station at the airport is accessible from the departures, look for red RENFE letters. One way ticket to Torremolinos is under EUR 2. Take a train direction Fuengirola. Signage and ticket vending machines offer English translation.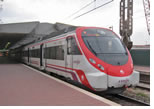 By Train:
Torremolinos is connected by RENFE (Train Service)
to Malaga RENFE station and the journey takes 20 minutes. From here you can take a train to any big destination in Spain. Sevilla is 2.5 hours away and Madrid is 4.5 hours. Tickets reservation for far destination is required. Tickets can be bought online through RENFE site. New speed train is into operation from fall of 2007 and makes Madrid an easy 2 h 15 min journey.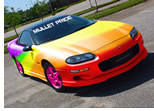 By Car: N340 highway passing near Torremolinos connects it with Malaga and Gibraltar. This highway offer direct link to Sevilla, Granada, Cordoba and Madrid. Estimate travel time to Madrid is around 5 - 6 hours.
By Taxi:
Right in front of the airport are lots of taxis. Ask for the price before you get in. You should pay maximum 15 euros to Torremolinos. If they ask more take another one.
Car rentals: There are many companies for renting a car. Most car rentals are on the lowerdeck of the arrivals. Just follow the signs in the arrival hall. (see our maps for how to drive to Torremolinos). The cheapest way is to make a reservation in advance. In Torremolinos itself there are some rental agencies but expect to pay more.