Welcome to Madrid

There is no doubt that Madrid has become one of the top gay destinations in the world. By its very nature, Madrid is an open-minded city and has always welcomed all those wanting to live life their own way. The Chueca neighbourhood sets an example for all the world to see, of how an area can be restored and turned into a unique area of personal freedom.
You can be sure that in Madrid you will enjoy yourself like never before. If you're in town at the end of June and start of July, make sure to take part in the Gay Pride celebration, which has since 2005 become Europe's largest party.
Madrid is the capital and largest city in Spain, as well as in the province and the autonomous community of the same name. It is located on the river Manzanares in the center of the country, at 2.100 metres above sea level. The climate is relatively cooled by cool mountain breezes during its hot summers.
As the former capital of the old Spanish Empire, Madrid has been bestowed with a degree of cultural predominance. Renowned museums such as Museo del Prado, the Museo Reina Sofia, and the Museo Thyssen-Bornemisza are major tourist attractions in the city. Many museums and art galleries provide a feast for modern culture lovers. The city also prides itself on its vibrant range of nightlife.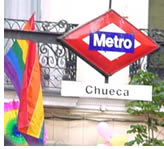 The main gay area in Madrid is called Chueca (Pronounced Choo-aye-ka) Madrid has a lively, raunchy gay scene. There are several sex bars and most bars have dark rooms, where just about anything goes. The gay area, Chueca, is in the old quarter at the center of Madrid. It's a tightly compact area, actually two areas a short distance apart. Places further afield are easily accessible by metro. Madrileños like all Spaniards tend to party late, going out to eat at 10pm, hitting the bars at 1am. and on to the discos about 4am after the bars close.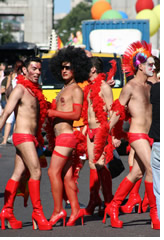 In 2004, gay madrileños led the charge for a victorious campaign to lift a ban on same-sex marriage, making Spain the third European nation to do so. Ever since, Madrid's annual June gay pride has become a vast international celebration of gay freedom, drawing hundreds of thousands of visitors from around the globe and making the city a prime, international destination.
While Madrid offers an endless selection of good-time spots in many of its neighborhoods such as La Latina, Lavapies and La Puerta del Sol, its gay life centers around its famed queer ghetto, Chueca. Once a haven for the sex and drug trades, Chueca today shines as a glittery hub for trendy shops, restaurants and nightlife, a tribute to the rescue efforts of the city's growing and increasingly affluent gays & lesbians.
From bear bars to drag shows, multi-level discos and girl clubs, Chueca is a veritable queer smorgasbord. The vibe here is loud and boisterous at night when the droves of bar hopping Spaniards pour onto the cobblestone streets. While it's safe to say that in this pocket of Madrid the gays reign supreme, Chueca welcomes everyone and offers a slew of non-gay locales that are just as lively and varied (and mixed) as the gay ones.
There is a pleasant atmosphere in this district. Gay and straight people intermingle comfortably, and same-sex kissing and handholding is a common site. The northern end of the neighbourhood is mainly the area of straight college students, but the central Plaza Chueca provides a vibrant mixture of heterosexuals and homosexuals.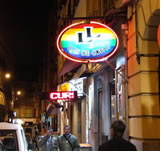 Chueca shines especially bright at night. In this atmosphere it is easy to see movie, music, fashion and theatre celebrities. But "What's there to do in Chueca?": Look at shop windows with minimalist, 70s, futuristic or kitsch decorative styles; read the newspaper while drinking coffee; listen to the latest DJs while shopping in the stores at Fuencarral market; try on boots with 20 cm. heel; go to actor Javier Bardem's bar; buy leather underwear; get a surrealist haircut; buy exclusive retro jewelry or trinkets; read the posters with concert announcements; look at the provocative graffiti; meet up in a bar; get a Picasso tattoo; see an underwear fashion show; get to know homosexual literature; spend your paycheck at a restaurant; buy second-hand clothes; buy perfumes in bottles of wine; go to the sauna...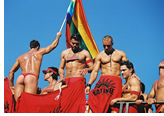 During the Gay and Lesbian Pride Festival in Madrid, Chueca turns into the star of the multicolored celebration. Shows, concerts, and slogans proclaim with pride to the whole world that it is party time for the gay community. The streets of Chueca are full of flag-tolerant activities. The Chueca and Vazquez de Mella plazas and Pelayo Street are turned into a party open to everyone.
Madrid gay nightlife is a pretty serious phenomenon. This is one of the few cities in Europe where you can get caught in traffic jams at 4am, when the clubbers are either going home or moving on to the dance-past-dawn discos.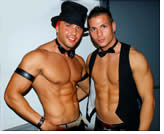 As with everything madrileño , there is a bewildering variety of nightlife venues - all of which are covered, to some degree, in the area reviews following. Most common are the discobares - bars of all musical and sexual persuasion, whose unifying feature is background (occasionally live) rock, dance or salsa music. These get going from around 11pm and will stay open routinely to 2am or 3am, as will the few quieter cocktail bars and pubs .
Gay Madrid has plenty of cruising spots... from shopping centres to train stations... you can find hot guys checking eachother out all over town! However there are some main areas where cruising is pretty obvious...and you can find what you are looking for, if you are in the right place.
As you stroll from one end of the river to the other, you will find guys running, rollerblading and, you guessed it, cruising. Grab a seat and sit back if someone catches your eye... the rest is up to you!
Fancy a steamy encounter with some hot latin guy in a hot tub? Well then Mardid has a gay sauna for you. There are a dozen or so Gay Saunas in Madrid, each catering to a different audience, some for younger guys, some for rentboys...
Madrid Gay Travel Tips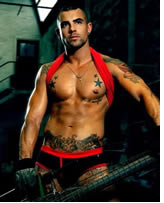 • Get a good map and club-hop. Exploring the massive and varied nightlife scene is a challenge, so do as the Madrileños do and hop from club to club, never staying too long at just one so you can take it all in.

• Stay in the Chueca area. A good selection of both gay and mainstream lodgings are found in this queer ghetto, making it easier to stagger home from a night on the town.

• World-class museums. Must-see sights in Madrid include the Prado Museum (Goya, El Greco, Velazquez, Bosch), Reina Sofia (Picasso's Guernica), and the Royal Palace.
Madrid Gay Accommodation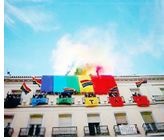 Recharge your batteries and wake up as good as new. There is a huge range of accommodation in Madrid (237 hotels and 663 hostels offering 76,101 hotel beds) and it is increasing at an ever faster rate. The quality of accommodation in Madrid has received national and international recognition. In recent years some of the world's most prestigious architects and designers have been creating unique places for you to relax in.
Madrid offers a good selection of accommodation specifically suitable for the Gay and Lesbian community, everything from Gay friendly hotels, Gay hostels and even flats and apartments that are gay friendly. If you're looking for accommodation in the heart of the city's vibrant gay area, we offer you information on some of the hotels and hostels located in and near the Chueca neighbourhood. Just as you would expect, they are all proud to be themselves gay-friendly.