Welcome to Fuerteventura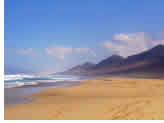 Fuerteventura is the second largest Canary Island and is closest to the African coast. Fuerteventura has over 150 beaches, some with pure white soft sand, and others with black volcanic sand or pebbles. The seas surrounding the island are crystal clear with many turquoise-blue lagoons, perfect for safe family bathing.
Fuerteventura is not known as a very gay resort. Gran Canaria, Tenerife are "better" places for that. But even on Fuerte there is something going on for the not straight holidaymakers.
Fuerteventura has the highest number of sand dunes and longest sandy beaches of all the Canary Islands, offering the space and freedom to walk alone on deserted beaches. Naturism is accepted and celebrated.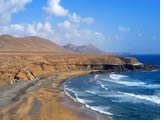 The landscapes of Fuerteventura are varied - barren countryside, volcanic contours, desert areas and palm tree havens, black, white and golden sandy beaches, turquoise lagoons and stark rocky coves pounded by white frothy seas.
Wildlife is varied and plentiful - from the endangered Houbara Bustard, to Barbery Squirrels (Chipmunks) and an amazing variety of marine life. It is possible to see turtles and flying fish regularly, with sightings of whales and dolphins being a rare treat.
Relax, unwind and lose yourself in the original beauty and calm of the unspoilt sunny island of Fuerteventura - the "Peaceful Island"
Fuerteventura Gay Bars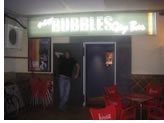 Bubbles gay bar is located in the Lower Ground Floor of the Atlantic shopping centre. The only exclusively gay bar in Corralejo where you find a great atmosphere with mixed ages and nationalities. Best current music , house, dance, disco with the very latest happing tunes of the internet, topped of with music videos. Bubbles also have an XXX area with a dark room. Opened 2004, with the idea of forming the beginning of the first gay scene on the island. John and Ammie, the creators of Bubbles bar have the goal of promoting the gay world on the island of Fuerteventura. Call in and say hi next time your in Corralejo, open from 22.00 until 04.00 Open 10pm until it closes.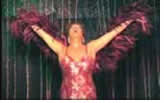 Sadie's Drag Bar There is a drag bar in Corralejo, which puts on a great show. Its called Sadie's': Fuerteventura's Only dragbar. Ex Pat entertainer Kenny Webster has made the island his home after turning his back on his home town in the UK. He was driven out of the Old Country by bullying that didn't stop, even culminating in assault that hospitalised him. Now he is doing a drag show, for gay and not so gay guests. Corralejo is the place to be. (Sadies also hosts an anual charity event in August, "Imagine a better world". Raising money for several charities.)
After too may drinks hop down to the Waikiki BeachBar, where at about five- thirty in the morning Frank Sinatra's New York New York will remind you there will soon be daylight again.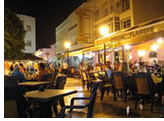 During the evening depending where you are staying within the island, there are lots of bars and restaurants and although are friendly do not advertise as such that they are gay bars. If you are looking for the party, bustling bars, cruising and dark rooms like that of Fuerteventura's neighbouring island - Gran Canaria, you will be disappointed as there is not yet such a thing here. But if you are looking for a quieter more relaxed pace where you have a lovely meal and evening stroll along the promenade and sit in a welcoming bar until the early hours then this could be a place for you to holiday!!
Fuerteventura Gay Beaches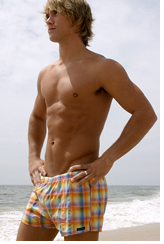 In Fuerteventura you will be able to relax and lie on the beach all day and explore the island to its full potential which can be a beautiful paradise to diverse barren land! The beaches can stretch as far as the eye can see and most beaches you will be able to find a section that is completely deserted and you will have all to yourselves.
Naturism, or nudism is acceptable all over Fuerteventura, but with so much beach available they tend to use the quieter stretches of beach away from the general family holidaymakers.
Corralejo Grandes Playas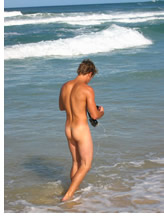 The beaches to the south of Corralejo, along the east coast, are situated in the Parque Natural de Corralejo. South of Corralejo there is the 11 km long dune area of the National Park (Parque Natural de las Dunas de Corralejo). The sand is very light-coloured and fine. From the beach you have a fantastic view of the islands "Los Lobos" and "Lanzarote".
From beach to beach the conditions vary and sports enthusiasts use them for surfing, windsurfing and kiteboarding. Naturists use the quieter parts of the beach about 200 metres either side of the large hotels. There's also a marked off area for wind surfers and kite surfers.
There are some large circular rock constructions that can give shelter or privacy. The bus between Corralejo and the hotels runs every 30 minutes in either direction, and a walk along the beach is a lovely way to pass a couple of hours or more if you like to stay for the day.
Corralejo also boasts the fantastic sand dunes which has a gay cruising area. You are sure to pick up a guy in one of those stone bunkers. Don't forget your condoms!!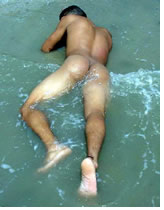 Playa Jania
Water sports, beach bums, familys and naturists can be found here with its impressive mountain backdrop and miles of soft sandy beaches. The beaches of Jandia and Sotavento in the south are undoubtedly some of the best on the island. If you are planning on hiring a car this place is well worth a visit. Here you can stroll all the way along the coast (20km) passing endless lagoons and dunes.
Caleta de Fuste (El Castillo or Costa Caleta) is a man-made resort about 15mins south of the airport.
Costa Calma/Jandia/Morro Jable are between 60-90mins in the south of the island and boast more wonderful golden beaches - one of them is about 20km long!
Morro del Jable Nudist Beach Off Avenida del Saladar also is popular gay beach and cruising place.
Resorts on Fuerteventura
Corralejo in the North of Fuerteventura seems to be the best place and most welcoming place to go for Gay holidays.
Corralejo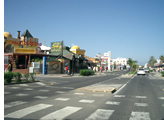 The first tourist area of Fuerteventura with views to los lobos and over 20km2 of sand dunes and beaches. Corralejo is also home to Bubbles Gay Bar.
Along the northern coast of Fuerteventura, golden sand dunes contrast against a mountainous backdrop, drenched in year-round sun. Underwater volcanic eruptions and quakes have created a unique and dramatic landscape, just 60 miles from Africa's coastline. The massive sand dunes of Corralejo and La Oliva play hoest to speed surfing championships as the water is so perfect.
The old fishing village and port is the gateway to Lanzarote, with a frequent ferry service. If you want to stay on the island, its beautiful climate, sweeping beaches and crystalline waves give everyone something to do.
Puerto del Rosario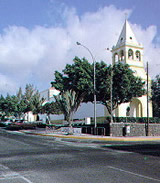 The Capital of Fuerteventura, Great for shopping and city life.
Puerto del Rosario is the capital of Fuerteventura. It is based around a port that has grown from its humble origins as the Puerto del Cabras 'port of the goats' into a busy working port that continues to develop, the beaches are used by some of Fuerteventura's surf schools, there are signs warning of the strong currents, so care is needed when bathing here. During the summer months the flag system operates.
It's a good place to practise speaking Spanish and allows an insight into the daily life of Fuerteventurans, or at least those that live in this 'city'. The Fuerteventuran accent is quite different to the standard Spanish, but if you are talking about food and cerveza, it is not too difficult to follow.
Pozo Negro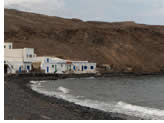 Pozo Negro is a small fishing village with a black sand beach between headlands. On the way to the sea you pass a distinctive path of black lava.
Along the coast are reefs and diving waters suitable for a range of abilities. There are many different kinds of fish including barracuda and moray eel. Nearby is an interpretative centre devoted to the Berber people and their history.
Costa Calma
Costa Calma is a true beach resort, having been built adjacent to a mile long section at the start of the white sandy beaches that run for about twelve miles from Costa Calma to Morro Jable.
Morro Jable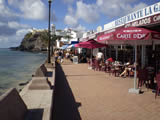 What was once a small fishing village with only 200 inhabitants, Morro Jable has now grown into one of the biggest holiday resorts with something for everyone.
The miles of golden beaches and clear blue seas, shops, bars and restaurants of attract thousands of tourists each year.
Despite all the tourism the old village still remains intact and there is a quaint harbour in the west of the town which is used by local fishermen and yachtsmen and you can still escape the hustle and bustle should you wish to take a leisurely walk along the promenade or check out one of the local beaches.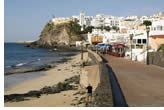 The resort started life as a small fishing village, but has evolved from the mid-1980s into one of the most popular German holiday resorts on the planet whilst retaining it's fishing village roots. Particularly around the old town area and harbour where a few fishing vessels sit beside deluxe catamaran sailing boats serving visiting tourists. Extensions to the main motorway running south, now direct to Morro Jable, mean a quick transfer time of under an hour from Fuerteventura's airport.
Some of the beaches here are the longest and most beautiful in the Canary Islands stretching 35km and there's plenty to do for the water sports enthusiast from jet skiing to windsurfing.
It's possible to take a jet foil from here over to the neighboring island of Gran Canaria.
Fuerteventura Gay Accommodation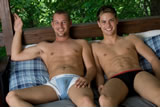 Fuerteventura is very welcoming to Gays so the majority of Hotels are Gay friendly, all restaurants and places to eat out are also friendly across the island. Private villas can be hired in abundance, and we have included some of them here. There is an exclusively gay La Casa Gay B&B located between Puerto del Rosario and Corralejo.