Welcome to Barcelona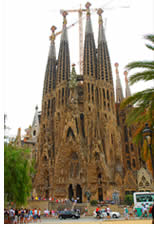 Barcelona has long had the reputation as a city with a vibrant and integrated gay scene. Whilst there are some areas that are frequented more by the gay community, everywhere in the city is welcoming and open-minded, making Barcelona a gay friendly popular destination for members of the gay community.
It's said that during the years of the repressive Franco regime, the attitude towards homosexuality in Barcelona was generally more accepting than in other major Spanish cities—perhaps demonstrating, even back then, the independent spirit and character for which the autonomous region of Catalonia is famous. No wonder an estimated 150,000 gay travelers from all over the world flock to this Mediterranean port each year.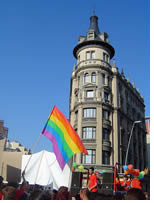 The main gay area in Barcelona is called L'Eixample or Gayxample, but let's start at the beginning. The beginning being the street everyone first heads for in Barcelona - Las Ramblas. It runs from the port, to the center of town, stopping just a few blocks short of the gay village and is famous for Barcelona's best street performers. It's a constant highway of people walking up and down it to see it's many visual delights. A word of warning though, it is a favourite spot for professional pick pockets, never put your wallet in your back pocket and don't leave anything unattended, even for a second. When the sun sets is when Barcelona really comes to life. After a hot day, the boys come out to play! Barcelona's gay scene is lively and stylish but remember in Spain you don't go out to eat until 10pm, the bars don't get going until midnight and the discos don't even open until 3am, so get some sleep in before you go out because you will be out all night drooling over those gorgeous Catalonian boys.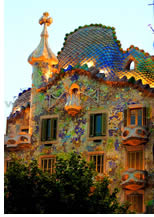 The first thing that is going to hit you when you arrive in Barcelona is the beautiful architecture all around you. Then as you start cruising around, the next thing that is going to knock you off your feet is that those amazing Gaudi creations you've seen so much of in photos are standing.......actually I'm not going to tell you where they stand because it will spoil the surprise, but you will be surprised where they are. You'll know what I'm babbling on about when you see for yourself.
Next you'll be pleasantly surprised at just how helpful and friendly the people are for a city of it's size. Whatever your preconceptions are of the Catalonians, they'll soon melt away as they do their best to make you welcome in their stunningly beautiful city.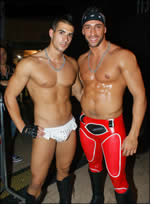 The gay area is called L'Eixample or nick named GayEixample and is north-west of the center of town within walking distance but can also be reached by Metro from either the Universitat or Urgell stations. If you get off at Urgell take the Villarroel exit. The gay scene is lively and there's plenty of variety. Everything you'd expect from a major city's gay scene but with the added bonus of bronzed Spanish boys all over the place. Eixample is pronounced eye-sham-play.
Gay Barcelona has a lot of gay cruising spots.Montjuic Park is popular both day and night. Here you will find some hot guys cruising the parks. Many will spend an afternoon simply lazing around until they find a guy that catches their eye. Lots of non-nationals, Brazilians and North African guys too. Some gay-for-play, but plenty of horny boys just looking for fun too.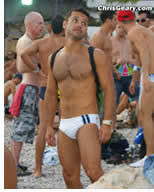 One of the most popular gay Barcelona cruising spots on the beachfront is Chernobyl gay Beach. This is really a summer cruising spot (April to October) and is busy mostly during the day, although during the hot summer months of July and August it can be busy up until 8pm.
Barcelona is one of the fews cities in the world that combines the attractions of urban tourism with the possibility of laying on a gay beach to sunbathe during the day or to enjoy the animation of the seafront in the evening or at night.
Barcelona's beaches, 4.2 kilometers long and just a few minutes from the city, are a unique case in Europe of the integration of a large metropolis with the sea.
Barcelona has always been an important Mediterranean city whose life has been linked to the sea. There are some amazing gay beaches in Barcelona for you to enjoy.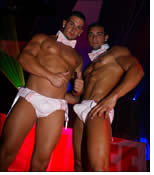 A city obsessed with the latest styles and fashions, today's Gay Barcelona hot-spot can become tomorrow's after-thought. The battle for the Pink Euro is fiercely fought. The result? You will find some of the most comtemporary "fashion-conscious" designer gay bars tucked right next to the oldest traditional tapas bars in Barcelona. Your night out begins with relaxing in an outdoor cafe over a refreshing Cava before you decide on where to dine. People eat late in Barcelona. Eating at 10pm is considered an early meal). Afterwards, its on to one of the many "musical bars" featuring disco music, guest dj's, strippers or drag shows.
As the night winds past 3am, its on to one of the many night clubs and late parties. As Barcelona is home to some of the biggest gay clubs and promoters in Europe, expect plenty of choice in terms of musical style and theme. Check out the clubs section and the events planner for details on the latest parties. Most discos have large dark rooms.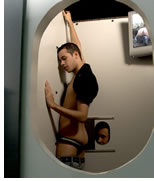 Alternatively your journey may take you to some of the many leather/sex bars which have all sorts of surprises in store for you! And of course there's always the Saunas. Barcelona has some of the cleanest and well-equipped Saunas we have seen, some of which are open 24 hours a day.
In short, the Bar scene in Barcelona is wide and varied. There is someting for all tastes. Whether its looking hot with all the pretty-boys in Zeltas, taking in a show at Dietrich's, lounging around in The Shadow Bar or stripping off in Bar Berlin, this is one town where you won't be short on options.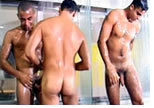 Beyond the bars and clubs, there's much to get you steaming in Barcelona. Saunas are very popular in Barcelona. And not just late at night... they are a 24 hour affair. The biggest company is Grupo Pases who have 4 Saunas in Barcelona. Sauna Casanova is the most popular and youthful "men's health" complex, bang in the centre with a brilliant red neon sign behind frosted glass luring in off the streets punters of all ages.
Barcelona Gay Accommodation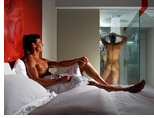 Barcelona offers a good selection of accommodation specifically suitable for the Gay and Lesbian community, everything from Gay hotels, Gay hostels and even flats and apartments that are gay friendly. There are over 1,200 Barcelona hotels available to our customers. We have selected the following hotels in Barcelona based on our own experience and reviews. They offer excellent service and amenities and are located either in the heart of the Barcelona gay district or within close walking distance.