Welcome to Lanzarote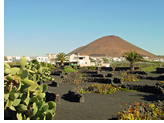 If your looking for a raging vibrant gay scene like that of Ibiza or Gran Canaria you won't find it on Lanzarote.
The pace of life on Lanzarote fits the climate very well indeed and is a great place to visit on holiday where you can relax and soak up the sun on golden sand beaches & private coves of Papagayo or at the poolside of your apartment or villa.
Lanzarote attracts many couples and friends who are looking for a retreat from the normal hub-bub of life, with her quiet sunsets and warm climate... and night life. Everyone, Gay boyz & Gay girlz, from 18 to 80 there's something for everyone in Lanzarote.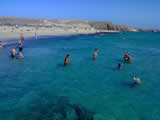 It's so not gay, but is the perfect place for a gay holiday with friends, family, as a couple or just yourself. Soak up the sub-tropical sunshine on a beach; party all night Canarias style. Experience the lasting legacy left by one of the island's greatest artist; be inspired by the active volcanoes that inspired him.
There's something about Lanzarote, the mixture of earth, water, fire and air combine with the low-rise nature of the island to give you a more natural and rustic Canarian experience. It's magnetic, and it'll leave you wanting for more.
Explore the beaches, bars and restaurants, check out the island's activities - enjoy a day sailing on a Catamarn, or dine at Omar Sharif's house. Guide yourself around the island's history, art, culture and find out why Lanzarote is a unique Biosphere Reserve - Lanzarote has it all.
Lanzarote Gay Bars
Lanzarote has three gay bars, all in CC Atlantico, Puerto del Carmen. We've got information about Black & White, Rainbow's End and Punto.
Black & White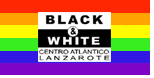 Busy after midnight, Black and White is a long standing Gay bar with a good mix of gay boyz & girlz, music, DJ and a video room. drinks promotions running every Sunday through to Thursday night, with cool drinks offers, a good place to start your night off, enjoy a dance, a cocktail or a pint and then return a little later... The bar is popular with male and female gay travellers and locals in to the early hours.
Rainbow's End


Rainbow's End opened on Lanzarote in 2009. It's on the 1st floor of CC Atlantico, offering a friendly atmosphere and relaxing music. Open from 20:00 h every night. Bear Night It's bear's night on the first Friday of each month - 23:30 - 04:00. Girls/Lesbian night on 2nd and 3rd Sunday of the month. Karaoke every Tuesday, Thursday and Sunday.
Punto


The disco bar is open to all, and is Lanzarote's largest gay bar!
Besides the gay bars, there are many bars with a friendly and relaxed attitude and atmosphere.
Watch out for Miss Terry Tour, currently appearing at Charmers bar in Playa Blanca. We know they do good breakfasts, and it would seem that their evening entertainment hits the mark too!
Lanzarote Gay Beaches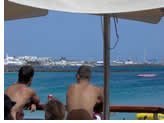 There are 97 beaches on Lanzarote. Here we've picked a few to highlight for you, and the map to the right shows the most popular.
There are many family oriented beaches on Lanzarote, but nudist friendly beaches are not usually far away. Papagayo, Guasimeta, Charco del Palo, and many smaller beaches, just a short walk from towns and resorts. Windy beaches such as Famara are perfect for wind-water sports such as windsurfing. Whatever you're at the beach for, don't forget the sun protection.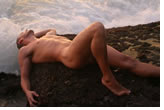 Topless sunbathing in Lanzarote is common on beaches and around hotel and apartment pools. Full nudity, however, is offensive to Lanzaroteños. There are, nevertheless, some beaches where nudity is tolerated. The best-known location in Lanzarote is the Papagayo beach area, just to the east of Playa Blanca. Here you'll find several small bays and coves, namely Playa del Papagayo (the largest), Playa de las Mujeres and Playa de Mola. There is also the purpose-built nudist resort of Charco del Palo (near Mala village on the northeast coast) with accommodation, restaurants and bars, shops and private beach facilities.
Playa Puerto del Carmen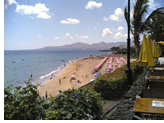 Puerto del Carmen is made up of around 6km of golden beaches. Playa Grande being the largest running along the length of the resort. There are many others such as Playa Chica, tucked behind Hotel Fariones, which are popular. As it's a fairly large holiday resort, the beaches are mostly family oriented with sun loungers and water sports available. The area around CC Atlantico can be cruisy, usually at weekends in the early morning - when the clubs have closed.
Playa Papagayo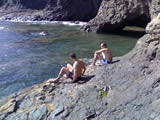 Access to the beaches at Papagayo is via an uneven dirt road. It is fairly remote and there are no facilities on the beaches, it is a treck down from the car parks, so make sure you take some supplies with you (water & sandwiches).
The beaches at Papagayo are considered the best in Lanzarote. Although they are a challenge to reach, it is worth the journey. The area is made up of several natural beaches around the bays and coves of Punto del Papagayo. The waters are crystal clear, although some areas are not suitable for swimming.
The area is well known for cruising - although it is difficult to predict the number of people you'll find there, it really does vary from day to day. As it's away from the family beaches of Playa Blanca, nudism is accepted.
Playa de Guasimeta

This fine brown sandy beach can be found near Arrecife airport, it literally runs alongside the runway. There is a cool breeze which attracts many local residents and holiday makers alike. The sea is rather rough here - so don't try swimming. Parking is available at both ends of the playa, which means it can get busy at times - both during the day and evenings.
It's a fairly notorious cruising spot - being within reach of both Arrecife and Puerto del Carmen. The promenade runs between the two, so you can walk or cycle.
Playa Charco de Palo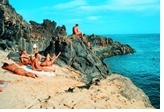 Near the village of Mala on the northeast coast lies idyllic Charco de Palo, a tranquil nudist reserved resort, which opens out to the Atlantic, thus guaranteeing complete privacy.
The small naturist seaside resort of Charco del Palo in the north of Lanzarote offers you everything you are looking for in a wonderful holiday. The resort has been frequented for over 30 years and is still a favourite with travellers from many countries.
Baranco del Quiqere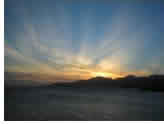 Without a doubt it will be one of the places that will fall in love people of sensitive heart. Their crystalline and paradisiac waters ill conquer us. Here we will be able to find spectacular marine funds and one of the best settings in sun of the island. In definitive, an encounter place, not only with other but with ourselves. Great number of people practices the nudism. During the holiday periods is usually frequented by all kind of people, so, take care of this fact. This is the area cruising that works best during the day in the island. Located Between Puerto del Carmen and Puerto Calero.
Resorts on Lanzarote
The main holiday resorts on Lanzarote are Playa Blanca, Puerto del Carmen, Puerto Calero, Costa Teguise and the smaller sub-resorts beside Puerto del Carmen - Playa de los Pocillos and Matagorda. Beside those, there's a wide range of guest houses, hotels and villas available across the whole of Lanzarote.
Puerto del Carmen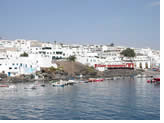 Lanzarote's largest holiday resort, Puerto Del Carmen has 6 km of golden sandy beach, backed by an equally long promenade with shops, restaurants, cafés and bars and nightclubs. Puerto del Carmen is also home to the island's gay bars.
It's just a ten-minute drive from Arrecife Airport to Puerto Del Carmen. It's a very large resort, but also very central for getting to other parts of Lanzarote. Puerto Del Carmen boasts an almost riotous nightlife. You will be able to find an event or venue to suit almost every taste. The main Gay bars and Clubs are in the CC. Atlantico.
Charco del Palo Naturist Village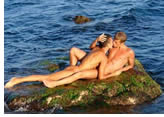 Charco del Palo, has been a naturist resort for approximately 25 years. It all started when a visionary German came along and saw a barren area of land just behind the cactus fields of Mala with a dirt track road leading through to the sea. He decided to build a villa. From that moment onwards more building plots were sold and a succession of villas and apartments were completed gracing the landscape.
As the area was so isolated, it started being used as a naturist area and is now known as Castillo De Papagayo and Charco del Palo. Twenty five years on it is still a growing resort and there are still new properties being built, at present there are approximately 350 apartments, bungalows and villas.
Lanzarote Gay Accommodation
Lanzarote is very welcoming to Gays so the majority of Hotels are Gay friendly, all restaurants and places to eat out are also friendly across the island. Private villas can be hired in abundance, and we have included some of them here.