Welcome to Key West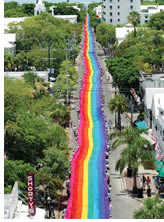 Key West, Florida, has long been a gay Mecca on mainland USA. Sun, sea, bars, clubs, cafés, al fresco dining, historic architecture, exclusively gay guesthouses, theatre and street entertainment combine to make Key West the unique gay and lesbian destination it is.
Yes, it's a tropical paradise, but Key West is much, much more. For nearly two centuries, it's been an outpost in the American Caribbean where all types of people — artists, sailors, writers, wreckers, gays and straights — have lived together in relative harmony. It's unlike anywhere else, really. The official city motto is "One Human Family." Lesbians and gays live open, out lives as an integral part of the fabric of the town, not separated by neighborhoods or ideology, but joined by a common concern for the community we call home.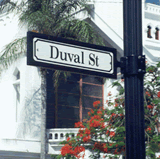 A long standing gay destination as well as an historic and culture rich town, Key West was the first American city to actively and openly recruit gay tourists. Points of interest include the former home of Ernest Hemingway, now open to the public as a museum and populated by descendants of his famous polydactyl cats. Duval Street is the epicenter of gay nightlife, culture and community, home of the famous Bourbon Street Complex, and the PrideFest Parade each June.
Colorful Key West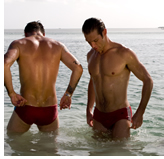 There's a certain sexiness about the island, enhanced by bodies bared to the sun's warmth and fragrances floating through the midnight air. It's a unique place that combines an idyllic climate with first-class hospitality, world-class culture, and exciting activities on and in the water. You can spend your days lounging poolside in a legendary guesthouse, snorkeling in our crystal-clear waters or biking through historic neighborhoods, and your nights dining on fine cuisine, enjoying live music and theatre, or dancing under the stars. From diving, to shopping, to sightseeing, to fishing, to doing nothing at all, Key West has exactly what you need to enjoy a fulfilling yet relaxing vacation.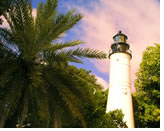 Colorful Key West is one of America's true architectural and botanical treasures. On even the tiniest lanes, the locals have faithfully restored old wooden homes and adorned them with lush tropical trees and flowers. New restaurants and stores are popping up in the historic Bahama Village neighborhood, which was settled in the 19th Century by Bahamian immigrants. Hemingway loved coming here to mix with the hard-working locals at boxing matches and arm-wrestling contests.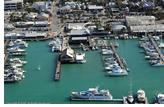 The islands seafaring tradition lives on at the renovated Historic Seaport district, known locally as the Key West Bight. Dozens of shrimp boats once called this harbor home. These days, "the Bight" is a popular place to arrange a day on the water, whether you are a diver, snorkler, fisherman or eco-tourist. Others come just to stroll along the harbor walk or dine at one of the many restaurants.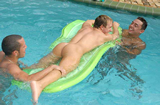 During the day, you can laze by your guesthouse pool, read, chat with other guests and top up your tan. If you're feeling energetic, head to the shore and go snorkeling, scuba-diving or jet-skiing. Key West is also home to the only living coral reef off mainland USA so a tour of the reef on a glass bottom boat is a truly memorable experience. At sundown, head for the Mallory Dock and see one of the most eclectic collections of street entertainers celebrating the world famous Key West sunset.
When sun goes down...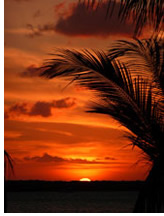 Every night in Key West you'll find the main promenade, Duval Street, packed with locals and vacationers doing the "Duval Crawl." Here you'll discover people from all walks of life strolling after a night of good food and music, gaggles of tan young women laughing and window-shopping, and gay men, jammed into flip-flops, jumping from club to club. Drag shows are big in Key West, so if you're a fan, you will be in bugle-bead heaven.
It's only once the glorious Florida sun sets that Key West really heats up, with a queer-oriented nightlife that runs the gamut from sing-a-long piano bars to sleazy homo strip joints.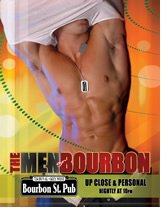 Try the La-Te-Da cabaret, which has been a staple here for over 30 years; newcomer The Keys, a piano bar featuring a nightly open mic where you can channel your inner Kiki Dee; The Bourbon Street Pub, with two drag shows every evening (famous for being the spot where local diva Sushi is dropped from an enormous red shoe at midnight on New Year's); and Aqua, KW's best-known club. If that all sounds too staid for you, you can always try one of the island's notorious strip clubs, such as the lesbian-friendly Teasers (for women dancers) or Kwest (for the boys). Hey, they don't call it Bone Island for nothing.
Though the island, befitting a place with a temperate climate, has a ton of year-round activities, there are some yearly events that make the trip worth it all by themselves. The ten-day extravaganza Fantasyfest surpasses New Orleans' Mardi Gras on the basis of debauchery alone; the annual Womenfest (beginning after Labor Day) for lesbians and those who love them; the Bone Island Bare It All Weekend; Pridefest; Gay Spring Break; Tropical Heat; FantasyFest; BearFest...... Try to make it to one of these events, if only to see how the locals turn it out for a special occasion.
Key West Beaches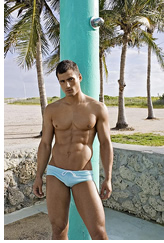 One of the most common misconceptions about Key West is that it should be a beach town like Miami and Fort Lauderdale... Well... it AIN'T!!
The Florida Keys are coral islands; therefore the beaches are very small and rocky,or man-made. Plus, due to the coral reefs offshore, the water is very calm. However, Higgs, Rest, South, Smathers and Fort Taylor Beaches are great to enjoy the sun, tropical breeze and beautiful ocean. Additionally there are several nice beaches to enjoy along the chain of islands such as Bahia Honda State Park.
Nudity
And for those of you looking for a gay or nude beach here - that ain't happening either. The closest thing we have to that is an area known at Boca Chica Beach which is about 12 miles north of Key West near the Naval Air Station. There are patches of sand but mainly it's a place where guys just walk around naked after walking a long ways to get there from the unofficial parking areas. We get naked at our gay resorts!
Bone Island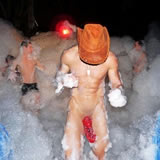 Key West has been historically known as "Bone Island" for over two centuries, and Bone Island Bare It All gives that name a whole new meaning.
Two weekends each year, hundreds of gay naturists and guys who like to get naked fill up Key West's clothing-optional gay guesthouses and gay friendly hotels. Featured events include dance parties, foam parties, pool parties, naked shopping, and now, the playful 'Happy Ending ' parties for when you do not want the party to end. Check your clothing and inhibitions at the doors of Key West's famous gay day and night life.
Check out the schedule of events for information on what's happening this year and buy your All Event passes online. Rooms at clothing-optional gay male resorts always sell out fast, so book your room today.
Getting Here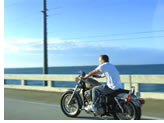 Let's face it, if you want to see it, do it and experience it all in Key West, you have to get here first!
Drive It!
At least ONCE! The drive through the keys is one of awesome beauty. However, it is a slow and sometimes tedious trip. If you plan on driving, allow yourself enough time so that you will not feel rushed should you get in a traffic slow down or delay. Get a convertible and have a top-down good time!
Drive it One Way!
Many people drive down from one of the mainland airports... Miami or Fort Lauderdale and even Orlando, and wisely decide to drop the car at the local car rental office and fly back.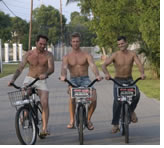 If you are going to be here more than 2 or 3 days... ditch the car. PARKING is at a premium and it is more fun to scooter, bike or walk around old town. in the State of Florida, you may do a one-way car rentals without a penalty. You can save the expense of having a car parked for several days by turning it in upon arrival and getting another vehicle for the return trip. Check with your rental agency to see if this will save you some money.
Driving time to Key West from Miami is about 3 1/2, from Ft.Lauderdale - 4 hours. As much as I like to push the speed limit, the drive through the keys is not the place. There are several places that are routinely monitored by radar and our nice cops really don't mind giving any of us a ticket for speeding.
Fly It!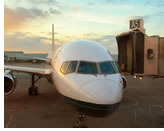 Key West International Airport
is served by several large carriers, including United
, Delta
, Silver Airways
, JetBlue
American Airlines
, Cape Air and Gulfstream. There are direct flights from Atlanta, Orlando, Miami, Fort Lauderdale, Tampa and Naples. Since a car is typically not needed while in Key West, flying is a great option.
Key West International Airport is located on our island, just four miles from Old Town. Taxis meet all arrivals. The ride takes about 15 minutes and costs about $15 for 2 or more passengers to a maximum of $20. For an individual, the meter rate applies and runs around $12. We recommend the Pink Taxis (of course) for best service.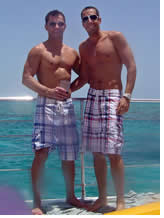 High Speed Ferries
Ferry Service is now fairly reliable from the East and West Coast of Florida, mainly from the Marco Island/Ft. Myers area and now Miami. Typically they make one trip in each direction daily. When the weather is rough between here and there, they do not operate and you may be stuck in one location for a day or more unless you rent a car to get away... but if stuck in Key West, how bad can it be?
Bus Service
Greyhound operates daily bus service to and from Key West with many stops along the way. Unless you are on very tight budget and have a good bit of travel time available, this will probably be your last choice.
By Boat
Since Key West is surrounded by water, access by boat is pretty easy. Where to dock that boat once you get here will be your biggest concern - but there are places that can accommodate you on a reservation basis.
Key West Travel Tips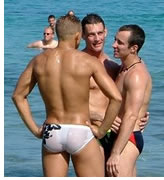 • Key West in summer is cooler than Miami. Thanks to constant ocean breezes sweeping across the island, summer temperatures rarely go over 90 degrees, with less humidity than Miami, too.
• Book early for winter. Snowbirds flock to the island for winter high season, and many properties require a two- or three-night minimum. Prices can go through the roof.
• If you have the time, drive. Flights take less than an hour on the extremely efficient small planes from Miami, but if you have time to spare, a three- to four-hour drive on the 159-mile Overseas Highway is a real experience.
Key West Gay Accommodation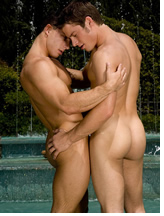 Key West accommodation ranges from exclusively gay and lesbian guesthouses, to gay-friendly hotels, inns, and bed&breakfasts. You can also and rent villas and apartments. Many of Key West's gay and lesbian guesthouses have clothing optional pools and decks, and include breakfast and 'happy hours' in their rates. Most are located on Fleming St, such as Alexander's and Oasis, and on Duvel St such as Big Ruby's and Tropical Inn. Pearl's Rainbow is the exclusively lesbian guesthouse on US. Rates and amenities range from the budget to luxurious so there is plenty of choice for the discerning gay and lesbian traveler.