Sitges



Number of rooms: 12
Rate range: From €44 EUR (per apartment per night)
Owned/Managed by: Sunway S.L.
Clientele: Exclusively Gay





One of most popular Sitges property, the air conditioned Tara Gay Apartments remain the only all-gay self catering holiday accommodation in all Sitges. What's more, there were a load of refurbishments made recently just for your comfort and delight and at huge expense!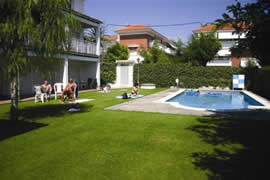 Because the Tara offers a choice of accommodation type and size, there's something to suit everyone here. So whether you're travelling on your own, as part of a loving, sexually-active couple or among a group of friends, we're pretty sure we'll be able to slot you in somewhere.
The Tara is more of a holiday residence than a full on complex. There's a small but perfectly pleasant swimming pool, which is surrounded by well-kept lawns. This pool area is really quite private as it's surrounded by six foot tall ivy hedges. And because there's no reception, you're perfectly free to bring people home with you – but don't disturb the neighbours!
(E) Standard Studios
sleeping 1-2
Isabel (ground floor)
Consuelo (first floor)
Fitted out in attractive, Spanish wooden furniture, these standard studios comprise two single beds, one of which pulls out from underneath the other. This means that these standard studio are best suited to singles or two people who have no intention of sleeping together. That's because the beds aren't quite the same height so intimate contact could be quite perilous. Best to take a look at the superior studios instead. Standard studios feature a small kitchenette with four cooking rings, an oven and a fridge with a freezer compartment.
(D) Superior Studios with Balcony / Terrace
sleeping 1-3
Rosario (ground floor)
Teresa (ground floor)
Maruja (first floor)
Paquita (first floor)
These spacious studio apartments are by far the most sought after of all the Tara options. They all feature good sized double beds, as well as a sofabed in the living area for a third guest. Because there's so much more room in these studios than in their standard counterparts or, for that matter, than in a lot of one bedroom apartments, you'll find that there's more space and more furniture in general.
(C) Two Bedroom Apartments
sleeping 2-6
Javier (ground floor)
Angel (first floor)
These superior one bedders are really quite unusual in that, although there's just the one double bedroom, there are also two living areas; one has a double sofa bed, and the other has two singles. This design quirk means that up to six people can occupy these apartments perfectly comfortably (and the higher the occupancy, the lower the per-person price), but they're also very popular with couples who appreciate a lot of living space in high quality surroundings and who don't mind spending a little bit extra on some added comfort. Kitchen facilities in these apartments are extensive: you'll get a proper kitchen rather than a kitchenette (full cooker, big fridge/freezer), plus a dining room with a table and half a dozen chairs.
(B) Two Bedroom Apartments
sleeping 2-5
Manolo (ground floor)
Paco (first floor)
Jose II (second floor)
This category of apartment sleeps up to five people; that's four in the bedrooms plus a fifth on the sofabed in the living room. The well-equipped kitchenette has a full fridge/freezer, an oven with four cooking rings and you have a choice of sleeping arrangements: Manolo and Paco have one twin room (ie two single beds) and one double bedroom, while Jose II has one double bedroom and a twin room with a single bed and a pull out bed. Don't forget to ask for the apartment you think will be most suitable for you when you book, otherwise our computer will allocate your accommodation at random when you reservation is confirmed.

(A) Two Bedroom/Two Bathroom Apartment With Balcony / Terrace
sleeping 2-6
Jose II (second floor)
This is jewel in the Tara crown and, because there's only one of them, it's always the one to sell out first. So don't dilly-dally once you've made your decision to book...there really isn't any alternative.
There's a bedroom with a double bed, a further twin bedded room for, plus a large, well-furnished living room with a double sofabed. Both bedrooms have their own ensuite bathroom, which is something of a godsend if you're travelling with people who spend hours and hours performing their ablutions.
Before we go, there's just time to mention that there's no public phone at the Tara and, if you haven't got transfers included on your booking, you'll need to collect your keys from the Sunway Playa Golf as there's no reception at the Tara. No probs taking people back then!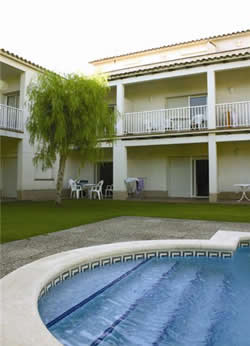 Location: The Tara are the only gay-only self catering apartments in all Sitges. The Tara offers a choice of accommodation type and is situated about ten minutes' walk from the centre of town and no more than about five minutes from the beach.

Hotel facilities: There's an extensive lawn bordered by high hedges and an inviting swimming pool. Three storeys high (no lift).

Room facilities: Every apartment has a pool view. The apartments are fully equipped with: a furnished balcony or terrace, satellite television, a safe, washing machine, ironing board, cooling fans etc.