Sitges



Number of rooms:
Rate range: From €48 EUR (per apartment per night)
Owned/Managed by: Sunway Hotels & Apartments
Clientele: Gay Friendly





The Sunway Atlanta gay friendly apartments offer a choice of three different accommodation types. Located about ten minutes' walk from the centre of town and five minutes from the beach, the Atlanta has a lovely pool surrounded by lawns with a poolside café/bar on site.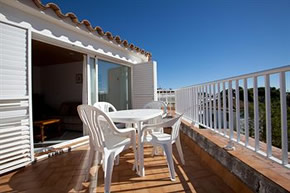 These fairly modern apartments are located about 350 metres from the beach and 750 metres from the centre of town.
They are ideal if you are looking for reasonably priced, self-catering accommodation in an excellent part of town. There are no restrictions, so guests can come and go as they please.
The reception area for the Sunway Group is located about 5 minutes' walk from the main cluster of apartments.
Located in well-kept gardens, the Sunway Atlanta shares a swimming pool with two other Sunway blocks.
All apartments are open plan, offering twin beds, private bathroom with bath, shower & WC, living area and kitchenette. Safes are now a standard feature of all Sunway units.
Most of the studios have a balcony/terrace.
Cleaning and linen changes take place once a week but remember to bring your own bath towels as none is supplied.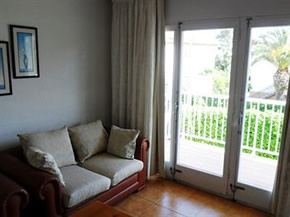 Studios
sleeping 1-2
These studios are actually larger than a lot of one bedroom apartments and, because they feature foldaway beds, provide you with lots of living space in their combined living and sleeping area. Lovers should be aware that the pull out beds are at a slightly different height to each other, so not really conducive to over-exuberant intimacy. All these studios have a microwave rather than a conventional oven.
Standard one bedroom apartments
sleeping 1-3
With a separate bedroom and living room, these twin bedded units have a sofabed so can accommodate three people...albeit at a bit of a squeeze. Best suited to couples who prefer a bit more space than that afforded by the studios described above, this is the most popular Atlanta choice.
The kitchenette has a proper oven rather than a microwave, so we'll be coming round for our Sunday lunch when we're in town.
Superior one bedroom apartments
sleeping 1-3
The pick of the bunch – hence the 'superior' moniker – this type of apartment features upgraded furniture, a huge balcony and a kitchenette with four cooking rings and a microwave. Far bigger than their standard counterparts, you can actually fit four people in here...two in the double bedroom and another two on the double sofabed in the living room.
By the way, these superior apartments are not in especially plentiful supply and tend to sell out extremely early, so please try to book up as soon as you can.