Sitges



Number of rooms:
Rate range: From €65 EUR (per apartment per night)
Owned/Managed by: Sunway Hotels & Apartments
Clientele: Gay Friendly





The Sunway Group Apartments is a selection of centrally located, self-catering studios and apartments in Sitges.
They have always been extremely popular with our guests and although we have a very large allocation of units, demand always outstrips supply, especially in the high season months of June to September.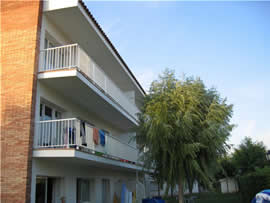 These fairly modern apartments are located about 350 metres from the beach and 750 metres from the centre of town.
They are ideal if you are looking for reasonably priced, self-catering accommodation in an excellent part of town. There are no restrictions, so guests can come and go as they please.
The reception area for the Sunway Group is located about 5 minutes' walk from the main cluster of apartments.
Located in well-kept gardens, the Sunway Arizona shares a swimming pool with two other Sunway blocks.
All apartments are open plan, offering twin beds, private bathroom with bath, shower & WC, living area and kitchenette. Safes are now a standard feature of all Sunway units.
Most of the two bedroom apartments have a balcony/terrace.
Cleaning and linen changes take place once a week but remember to bring your own bath towels as none is supplied.
Two Bedroom Apartments
sleeping 2-6
Two-bedroom apartment with 2 double bedrooms, living area with 2 individual sofa-beds, kitchenette, 2 en-suite bathrooms and balcony. The kitchen is equiped with a fridge, an oven and natural gas hearths. There is cutlery and bed linen in the apartment, which is also equiped with satellite TV and security safe.