Playa de las Americas



Number of rooms: 23 bungalows
Rate range: From €50 EUR (per bungalow per night)
Owned/Managed by: Playaflor
Clientele: Straight Friendly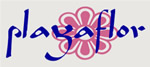 Gay owned and run, and located just across the road from the popular Playa de las Americas beach, little did they realise that they'd hit upon THE place to stay for anyone of a homosexual disposition wishing to wallow in the delights (and fantastic weather) of the sunny southside of Tenerife.
The scene in Playa de las Americas is not huge, yet the Playa Flor is close to the whole shebang – and that includes a smattering of bars, clubs and even a popular cruising area. And, as with all our most popular properties, it's the staff who put the relish on your holiday hotdog, and you'll find that the guys at Playa Flor will bend over backwards (not literally) to look after you.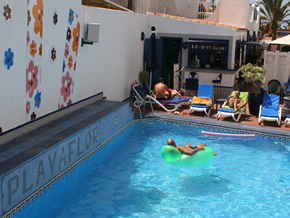 General Facilities
We should explain that if you're looking for a place to stay that's fully-loaded, as it were, then the Playa Flor may not be for you. The general tenor of the place is to provide an environment in which to chill, relax and take it easy. Think Café del Mar meets Canary-chic, and you're on the right lines.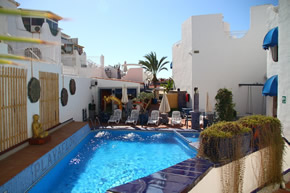 That said, there's a small but perfectly adequate pool with plenty of sunbathing space, a Moroccan style chill-out bar (comfy sofas, Moorish rugs, big cushions etc) and the guys throw the occasional poolside barbecue soirée where you can have a drink and a natter with your fellow guests.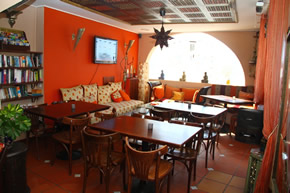 Playa Flor is also equipped with wi-fi, so if you're one of those people who can't survive without Gaydar, MySpace or Facebook, you can catch up with one of your 6,000 cyber friends from the comfort of your sunbed.
Room Facilities
After you've checked in, you'll be taken to your very own three storey townhouse. You'll find your holiday home attractively decorated, functional and stylish. On the ground floor there's a fully equipped kitchen, which is more than satisfactory for the kind of catering you might want to do on holiday, and a living room with satellite telly featuring pay-per-view porn, rather more enjoyable than Deal or No Deal in Spanish.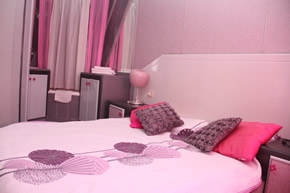 The first floor (that's the second floor if you're American or innumerate) features a good sized bedroom (please specify twin or double when you book) and a shiny modern bathroom for you to do whatever you do in there.
Up another flight of stairs and you're on the top floor which comprises a real suntrap of a roof terrace. Get your kit off, rub in the sun cream – or, better still – get someone else to do it, and just enjoy!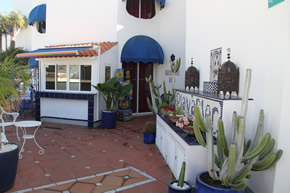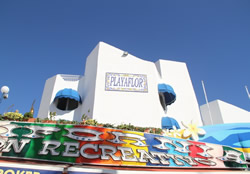 Location: Playaflor Chill-Out Resort is located right in the centre of Playa de las Americas, one of the main tourist settings in south Tenerife, in Arona district.
Just across the avenue, we can find a magnificent beach surrounded by all kinds of venues: Restaurants, bars, pubs, discos, shopping centres, casino, taxi and bus stop and all that you could expect from this privileged location.

Hotel facilities: You will love chill-out swimming pool, where you can sunbathe and cool down with the best ambient music of the moment ("café del mar", "buddha bar", etc…).

Room facilities: The bungalows, happy and bright, are divided into three levels: Kitchen and Living room on the ground floor, bathroom and bedroom on the first floor and a private solarium on the third floor.