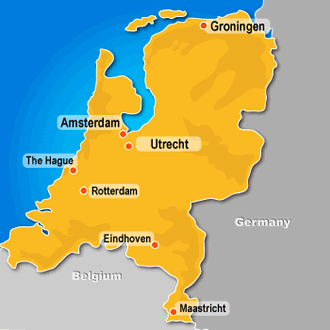 Choose where to go
The 5 main gay cities in Netherlands
Amsterdam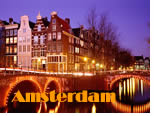 Amsterdam is a unique and picturesque city of 165 canals and over 1,200 bridges. There's so much to explore here, by foot, bike or canal boat. Famous museums like the Rijksmuseum, the Van Gogh Museum and the Stedelijk Museum of Modern Art. A 'must visit' is the Anne Frank House and museum. Amsterdam has been called "The gay way to Europe" and the city is certainly one of the most liberal cities for gay and lesbian travelers. Amsterdam is a very trendy city and everything is within easy walking distance. So when it comes to international dining, great shopping, over one hundred gay bars and clubs, cafés and diverse nightlife, Amsterdam, Netherlands offers it all for the gay and lesbian traveler.

Rotterdam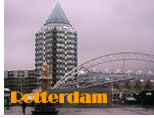 Holland's second biggest city, in its south west - birthplace of the great Dutch humanist Erasmus, and home to around two thirds of a million - punches well above its gay weight! Somewhat blitzed in the last war, Rotterdam has risen - ex nihilo, from the ashes - as a creative, cutting edge and contemporary hot-house in the fields of electro-music, art, architecture and design. Yet it still retains its links to the waterfront and harbour that put it on the map and reaped riches centuries ago via sea trade links with the Dutch East Indies; all intermingled with dramatic space-age bridges and towers.

Den Haag (The Hague)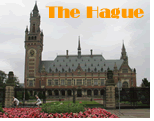 Seat of the Dutch parliament and royal family - plus many an international conference and criminal tribunal - and a mere half hour by train south west of Amsterdam: twin-centred Den Haag, offers both a courtly historic heart plus Scheveningen a delightful "mini-Brighton" satellite district right on the North Sea. The Hague's gay life is small but beautiful, hubbed around central Café De Landman, one of the town's oldest LGBT venues - packed to the rafters at weekends, with very friendly staff and interesting artefacts, like a message of thanks from Bill Clinton.

Utrecht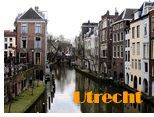 Utrecht is the capital, and most populous city, of the Dutch province of Utrecht; and the fourth largest city in the Netherlands, with a population of around 300,000 - double if you include its surrounds. Utrecht University is the Netherlands' largest university - so town's throbbing with young student cuties nearly all year round. Due to the city's geographically central position within the country - as "Holland's heartland" - it is also an important transport hub, as evidenced by its vast railway station. A mere half-hour by train direct from Schiphol Airport - and just 20 minutes from Amsterdam's Central Station - it is easily accessible, either on its own account, or in combination with the admittedly better-known Dutch capital.

Eindhoven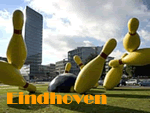 Home to Dutch footie kings PSV Eindhoven, the Philips electro-giant and with over 200,000 inhabitants, including many young design students, Holland's fifth biggest city punches well above its gay weight! Its cultural jewel is undoubtedly the Guggenheim-esque Van Abbe Museum.Eindhoven also boasts a friendly, lively and sizable queer scene, mainly clustered around Stratumsedijk. These Netherboyz really love to party all week round; but Saturday is defo the biggie!

All other cities, in alphabetical order
Groningen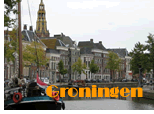 Groningen is the major city of the Northern Netherlands and, with a population of 185,000, the eighth largest city in the Netherlands. Groningen has a university, a university of applied sciences, a school for fine art and design, an academy of music and many more training institutes. Because of all these institutes, half the population is under 35, allowing Groningen to be able to call itself the "youngest" city of the Netherlands. Besides being a university city, Groningen is also at the leading edge in the development of research, innovation and entrepreneurship. In other words, Groningen is a real City of Talent.

Haarlem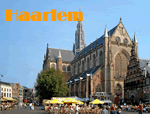 Haarlem is 900-year-old historic center full of beautiful medieval houses, a 13th-century city hall and the oldest museum of the Netherlands, the Teylers Museum (science technology and Dutch art). The main square, called de Grote Markt, is on mondays and saturdays still home of a very lively market, where one can buy flowers, textiles and those delicious stroopwafels (A delicious molasses wafer) and much more...yes I almost forgot the fresh herring! If that's not enough to satisfy your appetite, you can continue with the Nieuwe Kerk, the Frans Hals Museum (Dutch Masters) and the St. Bavo church.

Maastricht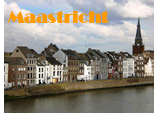 Maastricht is located in the south of the Netherlands, close to Liege and Aachen. It has a more southern, relaxed atmosphere than other parts of The Netherlands, and attracts many international tourists not only for its rich history (founded by the Romans) but also for its beauty. The city center is split in two by the river Maas, with the train station located in the smaller part of the center. The centre of the city is especially attractive, due to its wealth of historic buildings; some 1450 monuments are protected by law. Care is taken that both new and renovated buildings maintain the period atmosphere of their surroundings. Because of its heritage value, the whole of Maastricht city centre has been declared a 'protected area'.

Leiden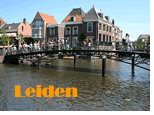 Situated at what has traditionally been an important junction where waterways and roads cross stands a city that will enchant you: Leiden. The city is famous for its almshouses, university, museums and glorious history. The spirit of the Golden Age lives on here, a place where Rembrandt was born and inspired so many other influential painters. But even after this era Leiden continued to attract scientists, artists and industry. The canals, the historical buildings, the alleyways, the treasuries of knowledge, culture and science: Leiden is definitely worth seeing.